The Double Nine Festival for Vibrant Health
, by Web Admin, 3 min reading time
The Double Nine Festival for Vibrant Health  Wing Hop Fung celebrates Chinese festivals by inviting everyone to enjoy the many health and wellness benefits of our ancient medicine that is highly valued to this day.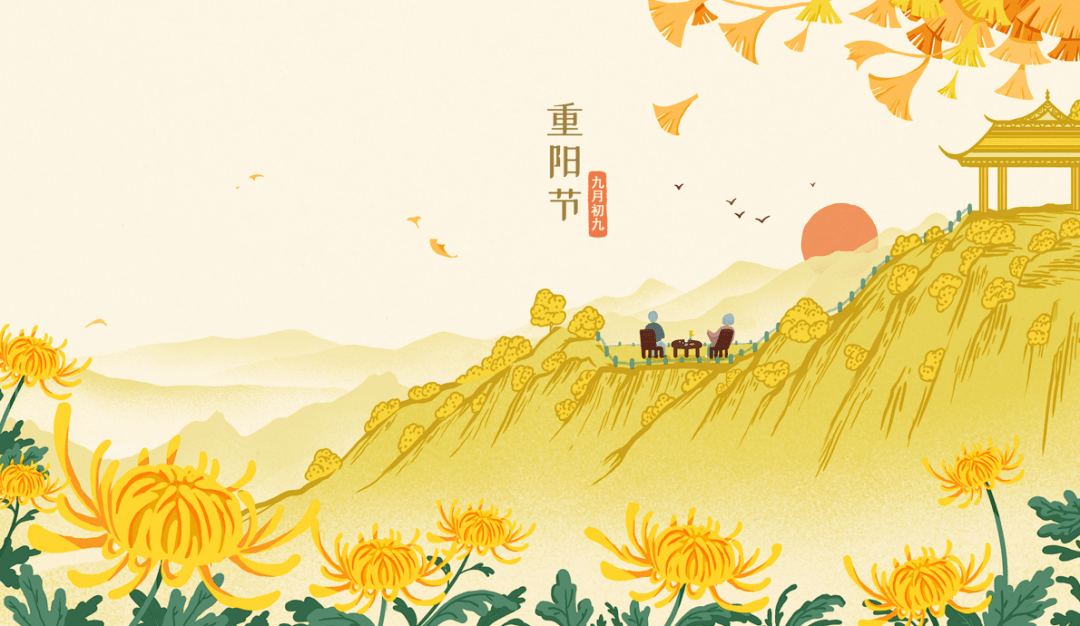 The Double Nine Festival October 23, 2023
In the I-Ching, the number nine is considered a "yang", ie. masculine, integer. The first two characters of the festival, "Chung Yeung" (重陽), literally translate as "double masculinity". The Festival falls on the ninth day of the ninth month in the lunar calendar and is named the Chung Yeung Festival or Double Nine. 
Why do we celebrate yang in the Fall? The air is light, dry, invigorating and positive. In the body our yang energy rises, spreads outward toward the muscles and skin, strengthens bone, nerves and brain. We love the fresh air, cool mornings and deeper sleep at night. The origin of the festival is an ancient myth which features two important chinese herbal medicines that promote healthy yang energy: chrysanthemum flower and cornelian cherry. 
Upward and Outward
Chrysanthemum flower tea is deliciously sweet and moves Qi outward to ward off fever, heat stroke, migraine headaches, cloudy vision— it works to refresh the body by removing excess heat without sedating the body or mind in any way. It is a popular summer drink served hot or cold. Chrysanthemum blooming season is now during October. Chinese people visit botanical gardens to view the colorful flowers and drink the healing tea. 
Cornelian cherry is the fruit of the dogwood tree. The dried herb is tasteless and added to yang tonic formulas to enhance adrenal energy, reduce low back weakness and knee pains that often accompany aging or over-exercising. It is a high source of vitamin C. 
A tea made by brewing the cornelian cherry and chrysanthemum flower strengthens vital energy Qi and yang a movement that is upward and outward. This is useful to build immunity during cold/flu season, help prevent the pains of aging and refresh and invigorate us for the season. 
The Myth
In the Eastern Han dynasty (25 – 220 CE), a demonic presence from a nearby river brought illness and death to villagers in Runan country. (today's central Chinese province of Henan.) One of the villagers was a young man named Heng Jing. As Heng Jing had lost his parents to the disease, he vowed to slay the demon. To achieve that, he sought the help of an old sage named Fei Chang-fang who lived high up in the mountains, Heng left his village and began his journey uphill.
The sage gifted Heng with a magical sword that had demon-vanquishing powers and taught him how to use the weapon. Heng became a skilled swordsman. One day, Fei told young Heng that the demon was going to return on the ninth day of the ninth month, and advised him to return home to lead his people to safety. Fei armed Heng with a bag of dogwood fruit and chrysanthemum wine, and Heng set off.
When the fateful day arrived, Heng led his fellow villages up a nearby mountain. To shield them against the demon, he equipped everyone with dogwood, and gave everyone some chrysanthemum wine to drink, as both had protective powers. The horrible demon emerged from the river, But  Heng swiftly killed it with Fei's magical sword. From then onwards, the ninth day of the ninth month became a day to commemorate this victory over illness and death. This story is why chrysanthemum tea and dogwood are still part of the Double Ninth Festival's celebrations today. The festival celebrates the power of Chinese herbs and honors our elders by protecting their health and longevity. 
Wing Hop Fung celebrates Chinese festivals by inviting everyone to enjoy the many health and wellness benefits of our ancient medicine that is highly valued to this day. 
Tags
---
Winter Treasures: Cordyceps

Winter Treasures: Cordyceps Winter is a Yin season in the northern hemisphere. Days are shorter and temperatures are colder. Our energy draws inward to protect...

Pu-erh Tea for supreme taste and health

Pu-erh Tea for supreme taste and health Pu-erh, a fermented tea, enhances digestion and reduces unwanted side effects of a rich diet and stressful lifestyle:...

Sea Treasures

Sea Treasures Seafood has been recommended to prevent and treat depression, is useful for maintaining a healthy weight, contains valuable nutrients. It is abundant, convenient,...