Wing Hop Fung Virtual Gift Card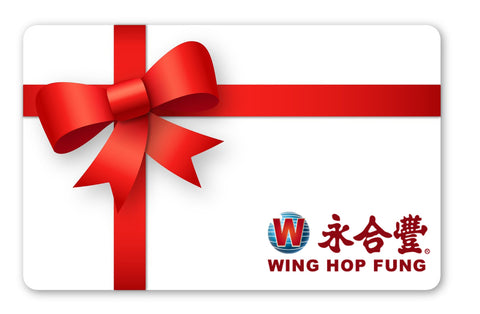 Wing Hop Fung Virtual Gift Card
Origin:
Product Weight:
Package Type:
In stock
Description:
Not sure what to give? Select our virtual gift card option for a shopping spree at Wing Hop Fung's online store! Let your gift recipient shop to their heart's content with the amount you purchase.

Wing Hop Fung Virtual Gift Card is virtual in nature and you will not receive a physical card.  You will receive an email with a unique 16-digit code.  Please do not lose this code, you can either forward our email to the recipient or provide the exact code however you see fit.
Please note, for now, the online gift card may only be used on our website. We hope to make this feature available for our stores in the near future. 
Please do not lose the code. If you or your gift recipient is having any issues, please don't hesitate to contact us at info@winghopfung.com.
注:永合丰网站电子礼品卡是虚拟的,您不会收到实体卡片。您将收到一封带有16位独特代码的电子邮件(或者提供您认为合适的确切代码作为礼品卡代码)。请不要丢失这段代码!您可以将我们的邮件转发给收件人。

永合丰电子礼品卡适用于购买永合丰网站上的任意商品,但不能用于购买礼品卡,不能折现,也无法在实体店使用。