Bird's Nest Strips (8 oz/box)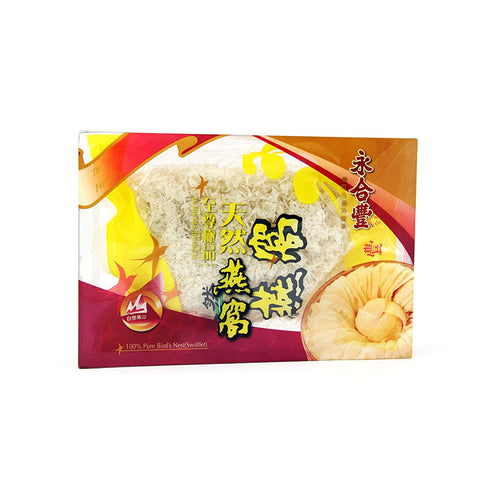 Bird's Nest Strips (8 oz/box)
Origin: Indonesia
Product Weight: 8 oz
Package Type: box
In stock
Description:
產品信息
品牌:
永合豐
品名:
天然精選燕絲 经济装 
產地:
印度尼西亞
色澤:
原色 未漂白
發頭:
6-9倍
保質期:
三年
淨含量:
8 oz
等級:
燕絲
含水率:
10%-15%
儲藏方法:
陰涼乾燥或41℉以下儲藏
適合人群:
孕婦,男女老少皆宜
每日用量:
日常保養2-3克,孕婦每天3-5克
燉煮方法:
泡發2-4小時,清理換水,隔水燉30分鐘即可。
燕盞的燕囊或掉下來較大粒的絲碎。燉後口感腍滑及乾淨。
燕窩是中國自明代以來開始被食用的傳統名貴天然滋補品,傳統上是皇帝與貴族養顏護膚的有效補品。燕窩主產於泰國、印尼、越南、馬來西亞等地。燕窩是雨燕科動物金絲燕或同屬燕類由口中吐出的唾液凝結而成。燕窩略有蛋白味,氣味清香飄逸,咀嚼時稍帶有黏滑感。燕窩自古以來,被人們奉為美食佳品及滋陰養顏之聖品。
● 永合豐企業於印尼巴厘島自設燕窩加工場
● 高於同業三倍的人力與衛生設備,確保安全可靠
● 100%純天然、無任何漂白、無添加劑、無防腐劑 
永合豐集團對下屬的燕窩工廠所生產的燕窩產品有嚴格明確的量化指標
讓您買得放心吃的舒心
質量規定
特級
一級
二級
燕條、燕絲
色澤標準
象牙白,顏色均勻
(雜色不超過10%)
米白色、暗紅色、金黃色,顏色均勻
(雜色不超過20%)
白色、橙紅色、黃色,顏色均勻
(雜色不超過30%)
白色、黃白色,顏色均勻
外形標準
完整
(破損小於1%)
較完整
(破損小於3%)
適度完整
(破損小於5%)
條形或絲狀
尺寸標準( in.)
長度≥4  寬度≥1 
長度≥3.5  寬度≥1 
長度≥2.7   寬度≥1
-
清潔程度
無肉眼可見雜質和異物
稍有可見絨毛
稍有可見絨毛
有細微絨毛,但無其他外來雜質
含水率 %
≤12
12-14

14-18

12-15

唾液酸含量 %
≥10
7~10
5~7
5~7
蛋白質含量 %
≥50
40~50
30~40
30~40
質量偏差率
允許10%的燕窩達不到特級要求,但符合一級要求
允許15%的燕窩達不到一級要求,但符合二級要求
允許15%的燕窩達不到二級要求,但不影響食用加工
-
Bird's Nest Strips (8 oz/box)
Bird's nest is a traditional precious natural tonic that has been consumed in China since the Ming Dynasty. It has traditionally been an effective tonic for emperors and nobles. Bird's nest is mainly produced in Thailand, Indonesia, Vietnam, Malaysia and other places. The bird's nest is formed by condensing saliva from the mouth of the swiftlet sparrow or the same genus. The bird's nest is high in protein, with a delicate fragrance and a slight stickiness when chewed. Since ancient times, bird's nest has been regarded as a fine food and precious product for nourishing yin body fluids and beauty.

● Wing Hop Fung enterprises set up bird's nest processing plant in Bali, Indonesia
● Three times more manpower and sanitation equipment than the same industry to ensure safety and reliability
● 100% natural, no bleaching, no additives, no preservatives

Wing Hop Fung Natural Selection, Color: Unbleached, Grade: Five Stars, Net content: 8 oz Shelf life: three years

Storage method: Store in a cool, dry place or below 41°F. This products is suitable for everyone: pregnant women, men and women. Daily dosage: 2-3 grams for daily maintenance, 3-5 grams per day for pregnant women

Method of preparation for the swallow's sac or the shreds of larger grains: Soak for 2-4 hours, clean and change the water, and simmer for 30 minutes. It tastes smooth and clean after stewing.

Wing Hop Fung Bird's Nests are cultivated in protected estates where quality is guaranteed. The ecology yields a productive environment for these rare birds to produce this highly valued delicacy.

All BIRD'S NESTS MUST BE REFRIGERATED. NEXT DAY SHIPPING or 2ND DAY SHIPPING. Other shipping options cause deterioration of the products. Purchases are not refundable.