MEXICAN DRIED ABALONE TOPSHELL SLICE (8oz/Box)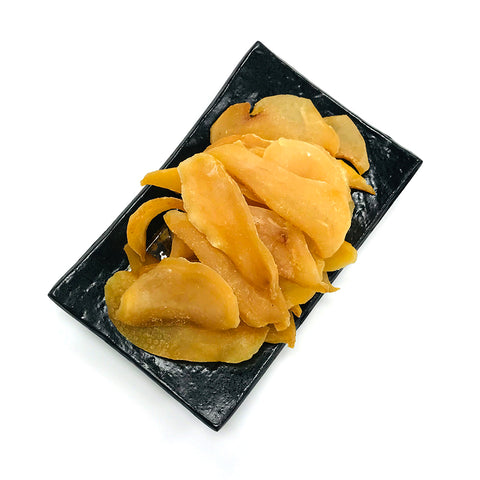 MEXICAN DRIED ABALONE TOPSHELL SLICE (8oz/Box)
Origin: Mexico
Product Weight: 8oz
Package Type: Box
In stock
Description:
精装 墨西哥 生晒鲍螺片(8oz/盒)
鲍螺片清补凉煲瘦肉
材料:干鲍螺片3两左右,清补凉一包,瘦肉8两左右,姜片3片
做法:
干鲍螺片洗净,略泡一会,清补凉也用水冲净,瘦肉飞水,然后将所有材料加入瓦煲,加够水,用大火煮开后转小火慢煲3小时,加盐调味即可。鲍螺片有助健脾开胃,养阴除烦,清毒去湿。瘦肉可以滋阴补肌,健体营养,加上清补凉的温和清凉降火功效,此汤清甜滋补,有去湿开胃,除痰健肺,特别适宜身体瘦弱,虚不受补者饮用,是夏秋季节的合时汤水。
建议:
清补凉可以买配好的包装成品,也可以自己配齐,有淮山,杞子,党参,玉竹,百合,莲子,红枣,芡实,薏米等,每种材料大概15-20克左右。 
MEXICAN DRIED ABALONE TOPSHELL SLICE
Abalone meat is tender and nutritious, high in protein 24%, and low fat 0.44% with many vitamins and trace elements that are very beneficial for our health. Abalone is rich in glutamic acid and tastes very delicious. Abalone is a yin nourishing food which means it supports the health of internal organs. It moisturizes lungs, which improves breathing and complexion. It clears inflammation and nourishes the liver and improves eyesight. Long-term consumption has been shown to help prevent cancer.
The most recent research has found abalone provides a good source of: 
Protein

Iron essential for building red blood cells 

Vitamin B12 

Magnesium 

Selenium 

Omega-3
Omega-3 fatty acids are a type of polyunsaturated fat that can not be produced by our body. So, Omega-3 is important as essential fatty acids. Omega-3 itself is formed of fatty acids like EPA (Eicosapentaenoic acid), DHA (Docosahexaenoic Acid) and ALA (a-linolenic acid). Omega-3 consumed regularly assists in the development of the brain and memory, prevents heart disease because it can make arterial organs becomes more elastic and reduces the risk of high blood pressure.  
Abalone Tonic Soup
Ingredients: 
3 taels (4 oz) of dried abalone slices 
1 package Sweet Soup-清補涼 (Qing Bu Liang Herbal Soup)
8 taels (1/2 pound) of lean meat 
3 slices of ginger  
Instructions: 
Rinse the dried abalone slices with warm water, soak them in fresh cold water for three hours or overnight. Rinse off the lean meat with water, and add all the ingredients to the clay pot. Add enough water to cover, and bring it to a boil over high heat then turn to low heat for 3 hours. When the ingredients are cooked and soft, add salt to taste. 
Sweet Soup 清補涼 (Qing Bu Liang Herbal Soup) helps to invigorate the spleen and improve appetite, nourish yin and relieve chronic discomforts, clear toxins and remove dampness (edema.) Lean white meat without fat or skin can nourish yin and improve muscles and nourish the body. The mild cooling, anti-inflammatory effects are cleansing and replenish vitality. This tonic soup is tasty and nourishing, improves appetite and digestion, removes phlegm and strengthens the lungs. It is especially suitable for those who are thin and weak. It is a timely soup for summer and autumn.