Yunnan Baiyao Tincture(50 ml)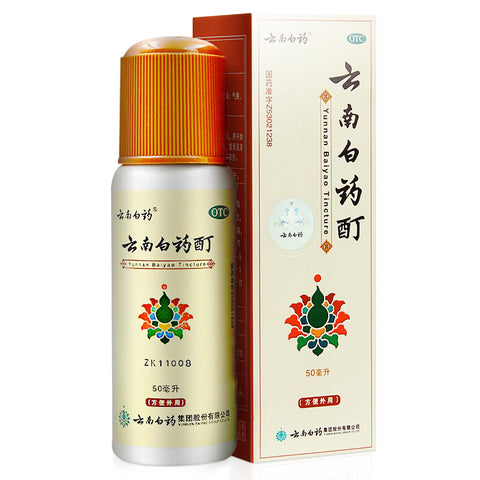 Yunnan Baiyao Tincture(50 ml)
Origin: China
Product Weight: 85g+30g
Package Type:
In stock
Description:
云南白药酊  Yunnan Bai yao Tincture (50 ml)
用法用量
口服,按剂量杯所示刻度量取,常用量一次3格至5格(3~5毫升),一日3次,最大量一次10格(10毫升);外用,取适量擦揉患处,每次3分钟左右,一日3~5次,可止血消炎;风湿筋骨疼痛,蚊虫叮咬,一、二度冻伤可擦揉患处数分钟,一日3~5次。
禁忌
孕妇禁用;对云南白药过敏者忌用。
注意事项
1.皮肤破伤处不宜使用。
2.用药后一日内,忌食蚕豆、鱼类、酸冷食物。
3.皮肤过敏者停用。
4.按照用法用量使用,小儿、年老患者应在医师指导下使用。
5.对酒精及本品过敏者禁用,过敏体质者慎用。。
6.本品性状发生改变时禁止使用。
7.儿童必须在成人的监护下使用。
8.请将本品放在儿童不能接触的地方。
9.如正在使用其他药品,使用本品前请咨询医师或药师。
Yunnan Baiyao Tincture(50 ml)
Function Indications:  Promotes blood circulation, dissipates blood stasis, reduces swelling, and relieves pain. Used for bruises, rheumatism, numbness, muscle and joint pain, muscle aches, and frostbite. 
Dosage Oral, measure according to the scale shown in the dose cup, the usual amount is 3 to 5 cells (3-5 ml), 3 times a day, the maximum amount is 10 cells (10 ml); for external use, take an appropriate amount and rub the affected area. It can stop bleeding and is anti-inflammatory; used for rheumatism, muscle pain, mosquito bites, first or second-degree frostbite, rubbing the affected area for a few minutes, 3 to 5 times a day. 
Contraindications: 
It is forbidden for pregnant women; and for those who are allergic to Yunnan Baiyao. 
Precautions 
It is not suitable to use on damaged skin. 

Avoid eating broad beans, fish, sour and cold foods within one day after taking the medicine. 

People with skin allergies should stop using it. 

Use in accordance with the usage and dosage, and children and elderly patients should use it under the guidance of a doctor. 

People who are allergic to alcohol and this product should not use it with caution.

It is forbidden to use this product when its properties change. 

Children must use it under the supervision of adults. 

Please keep this product out of reach of children. 

If you are using other drugs, please consult your physician or pharmacist before using this product.

This and all herbs must not be used prior to or following surgery according to the doctor's directions