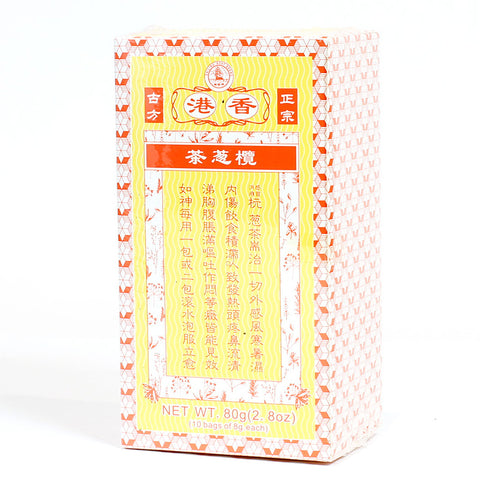 Olive Herbal Tea
Origin: China
Product Weight: 80 g
Package Type: Box
Out of Stock
Description:
总统牌 香港 榄葱茶 凉茶 (8g*10包)
榄葱茶,解表,平胃。用于伤风感冒所致的发热,头痛,流涕,喷嚏,喉痒咽痛,胸腹胀满。 
用法用量
冲服,一次1~2包(袋)。
注意事项
1.忌烟、酒及辛辣、生冷、油腻食物。
2.不宜在服药期间同时服用滋补性中成药。
3.高血压、心脏病、肝病、糖尿病、肾病等慢性病严重者应在医师指导下服用。
4.服药三天后症状无改善,或症状加重,或出现新的严重症状如胸闷、心悸等应立即停药,并去医院就诊。
5.小儿、年老体弱者、孕妇应在医师指导下服用。
6.对本品过敏者禁用,过敏体质者慎用。
7.本品性状发生改变时禁止使用。
8.儿童必须在成人监护下使用。
9.请将本品放在儿童不能接触的地方。
10.如正在使用其他药品,使用本品前请咨询医师或药师。
Olive Herbal Tea
Ingredient:
Perilla Leaves
Olives
Ginger
Green Onions
Olive Herbal Tea is used to treat the common cold. It is best when used during the initial phase of a cold when symptoms like headache & runny nose just started.
Preparation:
Place 1 or 2 of Olive Herbal Tea in 250ml (one bowl) of water, boil for 10 minutes, and then drink. 
Perilla leaves are used in Chinese medicine to treat a wide variety of ailments, as well as in Asian cooking as a garnish and as a possible antidote to food poisoning. Leaf extracts have shown antioxidant, anti-allergic, anti-inflammatory, antidepressant, anorexigenic, and tumor-preventing properties. (drugs.com)
Olives are very high in vitamin E and other powerful antioxidants. Studies show that they are good for the heart and may protect against osteoporosis and cancer. The healthy fats in olives are extracted to produce olive oil, one of the key components of the incredibly healthy Mediterranean diet. (healthline.com)
Olive … a good source of monounsaturated and polyunsaturated fats, which are critical for a healthy heart, blood flow, and hormone production. (readersdigest.ca)
From the Manufacturer: 
Olive Tea regulates appetite and calms the stomach. Used for fever, headache, runny nose, sneezing, itchy throat, sore throat, the fullness of chest and abdomen caused by colds. 
Precautions: 
Avoid smoking, alcohol, and spicy, cold, greasy food. 

It is not advisable to take nourishing proprietary Chinese medicines [aka herbal tonics] during the medication. 

Patients with severe chronic diseases such as hypertension, heart disease, liver disease, diabetes, and kidney disease should take it under the guidance of a physician. 

After three days of taking the medicine, the symptoms have not improved, or the symptoms have become worse, or new serious symptoms such as chest tightness, heart palpitations, etc. should be stopped immediately and go to the hospital for treatment. 

Children, the elderly and the infirm, and pregnant women should be taken under the guidance of a doctor. 

People who are allergic to this product should not use it with caution. 

It is forbidden to use this product when its properties change. 

Children must be used under adult supervision. 

Please keep this product out of reach of children. 

If you are using other drugs, please consult your physician or pharmacist before using this product.