Pure Gold Dianhong Black Tea #1280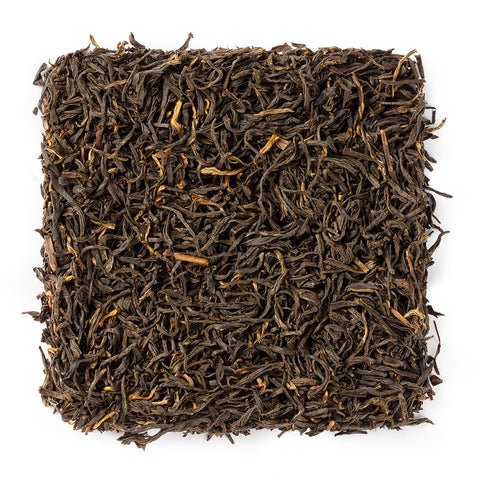 Pure Gold Dianhong Black Tea #1280
Origin: Yunnan,China
Product Weight: 4 oz/1 lb
Package Type: Bag
In stock
Description:
品牌Brand:
永合豐 雀石茗茶WHF Twin Birds
产地Origin:
云南 Yunnan, China
品名Name:
金毫 滇红  Pure Gold Dianhong 
保质期Shelf Life:
36 months
分类Sort:
红茶 Black Tea
Caffeine Level:
☆☆☆☆☆
干茶
Body:
芽头均匀,花香上扬,色泽金黄
Dark leaves with golden tips,
茶汤
Liquor:
汤色金黄,蜜香内敛,茶香浓郁醇厚,鲜爽持久
Sweet red potatoes aroma, savory cocoa, and black pepper flavors. Smooth and full-bodied, slightly sweet
储存方法
Storage:
常温、阴凉、干燥、可长期保存
Store in airtight, opaque packaging; in a cool, dry place
等级Level:
一级 Premium
叶形完整,条索肥厚紧实,金毫尽显,均匀整洁,色泽油润。茶汤香甜,喉韵悠长,回甘温润。茶底红润油亮,叶片完整度高。
Pure Gold Dianhong Black Tea #1280
This is a high-end, gourmet Chinese black tea sometimes used in various tea blends and grown in Yunnan Province, China. The main difference between Dianhong and other Chinese black teas is the amount of fine leaf buds, or "golden tips," present in the dried tea. Dianhong teas produce a brew that is rich, rosy golden orange in color with a sweet, gentle aroma and no astringency. Cheaper varieties of Dianhong produce a darker brownish brew that can be very bitter.
The tea leaf shape is complete, thick, firm, uniform and the color is oily. The tea soup is fragrant and sweet, with a long pleasant aftertaste that is sweet and moist.
| | | |
| --- | --- | --- |
| Brewing Method: | Teacup |  Chinese Gaiwan |
| Water volume: | 12oz / 355ml | 3.8oz / 110ml |
| Temperature: | 194℉ / 90℃ | 194℉ / 90℃ |
| Tea Quantity: | 2 g Tea | 5 g Tea |
| Brewing time:  | 2 - 5 mins |  5 steeps: 10s, 15s, 25s, 35s, 50s |
| | |  Rinse time is around 5 seconds |