Yunnan Chi Tse Beeng Cha Pu'erh Tea Raw Cake 1980(357g)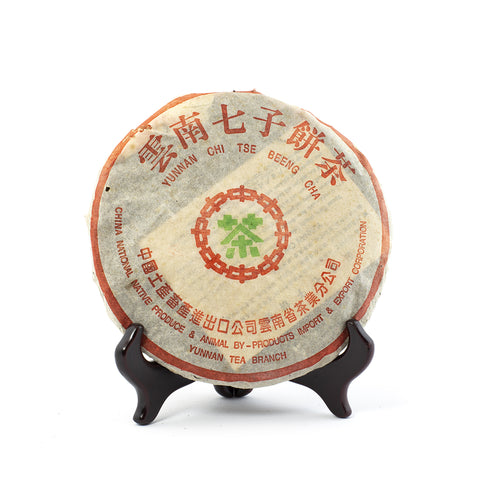 Yunnan Chi Tse Beeng Cha Pu'erh Tea Raw Cake 1980(357g)
Origin: China
Product Weight:
Package Type:
In stock
Description:
雲南七子餅茶 青饼 中茶绿印 80年代 珍藏版
中國土產畜產進出口公司雲南省茶業分公司
Yunnan Chi Tse Beeng Cha Pu'er Tea Raw Cake 1980(357g)
Uncooked Pu'er (Pu-erh) is the original form of Pu-erh teas. Following traditional methods, new uncooked Pu-erh teas are not fermented. The leaves are of a higher quality than other teas. The taste of those new teas, especially those made of wild arbor-type tea trees, has a strong astringency. By storing them in a dry condition for several more years, the teas become more mellow and with a lingering taste. In fact, the longer you store uncooked raw Pu-erhs, the better and more mellow the taste. 
Raw Pu-erh is best for aging as it is originally less processed than ripe Pu-erh. Make sure to have a room or space with about 60-70% humidity. This is the ideal humidity level to keep the cake and its natural bacteria healthy and thriving.
Pu'erh teas have traditionally been used to: 
1. Improve Health.
2. Cancer prevention, cancer.
3. Healthy Teeth on oral health.
4. Anti-inflammatory, Anti-bactericidal, and Diarrhea.
5. Lipid-lowering and weight loss,
6. Lower blood pressure, anti-atherogenic.
The many health benefits of Pu-erh tea have led to it being known as a "Wonder Tonic" and "Medicinal Tea". Long-standing consumers of Pu-erh tea believe it has anti-aging properties and can prolong life.
Pu-erh Special Tea, known as Pu-erh Tea by people outside China, has the features below:
Pu-erh tea is moderate in taste, not as strong as black tea. It can cut grease, help digestion, warm the stomach, help produce saliva and slake thirst, dispel the effects of alcohol and refresh one's mind. Pu-erh tea has functions of lowering the triglyceride, cholesterol, hyperuricemia in the body 
Pu-erh tea is processed through special fermentation by using the semi-made green tea of Yunnan large leaf tea. It is black or brown in color. 
Pu-erh tea can be kept for a very long time, the longer you keep it the better it tastes and the higher its quality becomes. But it can not be stored air-tight or put in moisture or close to goods with peculiar smell. It will taste best if brewed with spring water and in a Zisha Yixing (purple clay) teapot.