Yun Nan Meng Hai Qi Zi Bing Cha/ 2010 Pu'erh Tea Cake(357g)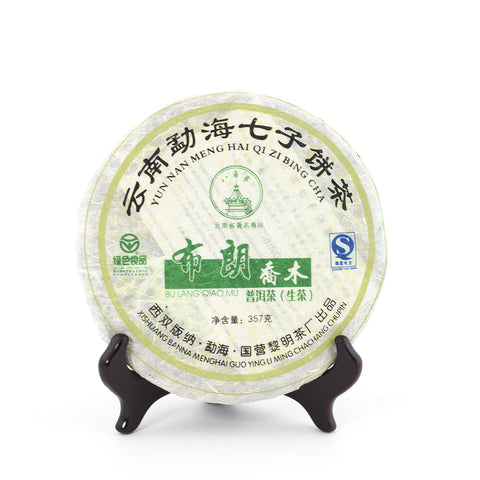 Yun Nan Meng Hai Qi Zi Bing Cha/ 2010 Pu'erh Tea Cake(357g)
Origin: China
Product Weight: 357g
Package Type:
In stock
Description:
云南西双版纳 八角亭 勐海七子饼茶 布朗乔木 普洱茶 2010年 生茶茶饼 357克
Yun Nan Meng Hai Qi Zi Bing Cha/ 2010 Pu'erh Tea Cake(357g)
Fragrant, mellow, full-bodied, very smooth, honey-sweet, delicate, with a sweet aftertaste or Hui Gan.

This tea is one of the most popular in a series of classic sheng Pu'erh teas from Bulang mountain, from the prominent Menghai Zhong Jie Hao Tea Company. It was sourced from Menghai, one of the most renowned and sought-after Pu'erh tea-producing regions of Yunnan. After 6 years of aging, this tea has developed its flavor surprisingly well with fruitiness and honey sweetness, like a mature and classy lady. The pronounced sweet notes, exhibiting smooth honey sweetness from the first step all the way to the end. It will further develop and deepen these wonderful attributes as time goes by.
Pu'er (aka pu' erh) is a fermented tea with great heart health and digestive benefits.