Fruit-spike of Common Selfheal/Prunella/Xia Ku Cao (8 oz/bag)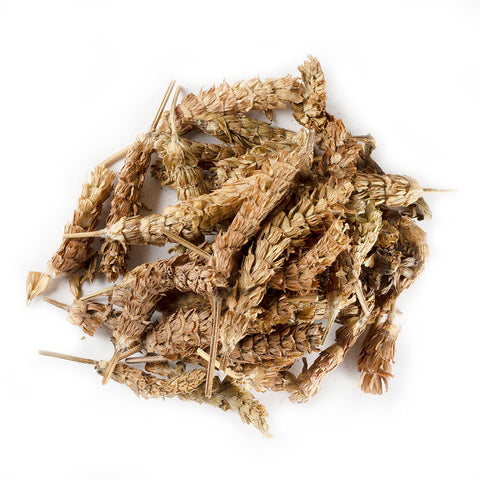 Fruit-spike of Common Selfheal/Prunella/Xia Ku Cao (8 oz/bag)
Origin: China
Product Weight: 8 oz
Package Type: Bag
In stock
Description:
大花 夏枯草(8oz/包)
夏枯 夏枯球 枯草头 枯草穗 夕句 乃东 枯草 燕面 夏枯头 夏枯花 铁色草 麦夏枯 棒柱头花 棒槌草 锣锤草 牛牯草 广谷草 棒头柱 六月干 大头花 古牛草 牛佤头 丝线吊铜钟
本品为唇形科植物夏枯草的干燥果穗。
性味
苦辛,寒。
经脉
入肝经、胆经。
主治
清肝,散结。治瘰疬,瘿瘤,乳痈,乳癌,目珠夜痛,羞明流泪,头目眩晕,口眼歪斜,筋骨疼痛,肺结核,急性黄疸型传染性肝炎,血崩,带下。
注意禁忌
脾胃虚弱者慎服。
【食疗方】
夏枯草煲猪肉
夏枯草20克,瘦猪肉50克,猪肉切薄片,小火炖汤,每天服2次。
此药膳清肝热,滋阴补虚,可治虚症型高血压病。
Fruit-spike of Common Selfheal/Prunella/Xia Ku Cao (8 oz/bag)
Cooling, detoxifying, soothing, mild tasting:
Prunella vulgaris is a medicinal herb that has been used for centuries to treat infections and other illnesses. Some studies show it may help fight inflammation, protect against cancer, prevent diabetes complications, and treat herpes. (healthline.com)
Researchers have found that the herb provides antioxidant and antimicrobial properties. Scientists know that it contains vitamin C, vitamin K, thiamine, and tannins. Tannins may help reduce inflammation and have a drying effect on the tissues. https://www.verywellhealth.com/the-benefits-of-prunella-vulgaris-88644
This product is dried Prunella vulgaris, a plant of the Lamiaceae family. The taste is mildly bitter and it is cold in effect [anti-inflammatory.] It enters the Liver and Gallbladder meridians.
Indications: To "clear the liver and dispel knots" [detoxifying and lymph cleansing.] It has been used to treat scrofula, gallbladder tumors, carbuncle, breast cancer, night pain in the eyes, tears in the eyes, dizziness, crooked mouth and eyes [post stroke,] muscle pain, tuberculosis, acute jaundice infectious hepatitis, excess bleeding. 
Cautions: Those with weak spleen and stomach should take it with caution. 
Diet Therapy 
Prunella with Pork  
Ingredients:
20 grams of Prunella vulgaris, 50 grams of lean pork, thinly sliced. Simmered in with low heat until cooked. Dosage: 2 times a day.  This medicated diet clears liver heat [inflammation], nourishes yin and nourishes deficiency, and can cure deficiency-type hypertension.