Wuyang Spring Rain Green Tea #1085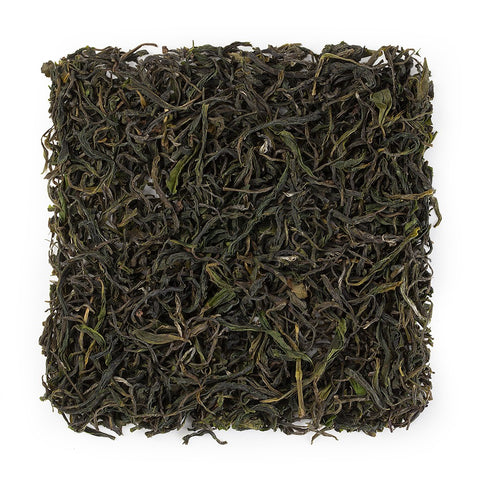 Wuyang Spring Rain Green Tea #1085
Origin: Wuyi, Zhejiang, China
Product Weight: 4 oz/1 lb
Package Type: Bag
Out of Stock
Description:
品牌Brand:
永合豐 雀石茗茶WHF Twin Birds
产地Origin:
浙江 武义县 Zhejiang, China
品名Name:
武阳春雨  Wuyang Spring Rain
保质期Shelf Life:
18months
分类Sort:
晒青绿茶  Green Tea
等级Level:
特级 Supreme
采摘Season:
清明前 Spring
Caffeine Level:
☆☆☆
干茶
Body:
形似松针丝雨,色泽嫩绿稍黄
These thin, tender leaves are elegantly and evenly shaped
茶汤
Liquor:
香气清高幽远,滋味甘醇鲜爽,
Sweet, fruity, floral aroma,Light yellowish-green with floating fuzz
储存方法
Storage:
常温、阴凉、干燥、可长期保存
Store in airtight, opaque packaging; in cool, dry place
"一夕轻雷落万丝",武阳春雨茶产于浙中南"中国有机茶之乡"——武义县。武阳春雨茶形似松针丝雨,色泽嫩绿稍黄,香气清高幽远,滋味甘醇鲜爽,具有独特的兰花清香。茶叶自然品质"色、香、味、形"独特,在历史上享有盛誉。
Wuyang Spring Rain Green Tea #1085
The tea garden where Wuyang Spring Rain Green Tea grows is surrounded by fresh air and misty mountains all year round. With no pesticides, chemicals or additives, this green tea is pure and delicate with an appearance of bright green tea leaves that are slim and curled. It has a beautiful aroma of roasted chestnuts with an underlying note of bitterness and a satisfying aftertaste. According to the manufacturer: 
"One night light thunder and ten thousand silks" Wuyang Chunyu tea is produced in Wuyi County, the "hometown of tea in China" in central and southern Zhejiang. Wuyang Chunyu Tea is shaped like pine needle silk rain, its color is green and slightly yellow, the fragrance is high and distant, the taste is sweet and fresh, and it has a unique orchid fragrance. The natural quality of tea is unique in "color, aroma, taste and shape", and enjoys a high reputation in history. 
Store the tea in airtight, opaque packaging; in a cool, dry place. The shelf life is 18 months. 
Tea brewing: the Chinese Gaiwan or Gongfu method of brewing using a small yixing tea pot and little tasting cups. It is a time-honored tea ceremony to be enjoyed with friends. First the pot and cups are warmed by pouring boiling water in them which is discarded. Then dry tea leaves are placed in the empty warm teapot, keeping the lid on for 10-20 seconds to awaken the aroma. Lift the lid to enjoy the fragrance. Then add boiling water to the pot, swish it around, rinse the tea for 5 seconds and discard the water. That prepares the tea leaves. Finally boiling water is added and briefly steeped as shown:
| | | |
| --- | --- | --- |
| Brewing Method: | Tea cup |  Chinese Gaiwan |
| Water volume: | 8.8oz / 250ml | 3.8oz / 110ml |
| Temperature: | 176℉ / 80℃ | 176℉ / 80℃ |
| Tea Quantity: |  1.5 Teaspoon / 2g  | 3g  |
| Brewing time:  |  3 - 5 mins | 6 steeps: 20s, 40s, 70s, 120s, 150s, 180s |