Premium Poria /Fu Ling 16oz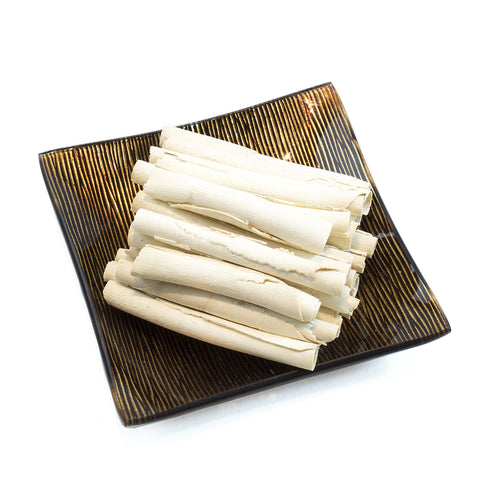 Premium Poria /Fu Ling 16oz
Origin: China
Product Weight: 16 oz
Package Type: Box
In stock
Description:
特级茯苓(16 oz/盒)
性味
甘;淡;平
功效
本品为多孔菌科真菌茯苓的干燥菌核。 治小便不利,水肿胀满,痰饮咳逆,呕哕,泄泻,遗精,淋浊,惊悸,健忘。
经脉
心经;脾经;肺经;肾经
主治
渗湿利水,益脾和胃,宁心安神。治小便不利,水肿胀满,痰饮咳逆,呕哕,泄泻,遗精,淋浊,惊悸,健忘。
①《本经》:主胸胁逆气,忧恚惊邪恐悸,心下结痛,寒热烦满,咳逆,口焦舌干,利小便。
②《别录》:止消渴,好睡,大腹,淋沥,膈中痰水,水肿淋结。开胸腑,调脏气,伐肾邪,长阴,益气力,保神守中。
③《药性论》:开胃,止呕逆,善安心神。主肺痿痰壅。治小儿惊痫,心腹胀满,妇人热淋。
④《日华子本草》:补五劳七伤,安胎,暖腰膝,开心益智,止健忘。
⑤《伤寒明理论》:渗水缓脾。
⑥《医学启源》:除湿,利腰脐间血,和中益气为主。治溺黄或赤而不利。《主治秘诀》云,止泻,除虚热,开腠理,生津液。
⑦王好古:泻膀胱,益脾胃。治肾积奔豚。
⑧《药征》:主治悸及肉瞤筋惕,旁治头眩烦躁。
用法用量
内服:煎汤,10~15g;或入丸散。宁心安神用朱砂拌。
注意禁忌
虚寒精滑或气虚下陷者忌服。
Premium White Poria /Bai Fu Ling 16oz
In traditional medicine, poria mushroom filaments have been used for loss of memory (amnesia), anxiety, restlessness, fatigue, tension, nervousness, dizziness, urination problems, fluid retention, sleep problems (insomnia), an enlarged spleen, stomach problems, diarrhea, tumors, and to control coughing. https://www.webmd.com/vitamins/ai/ingredientmono-246/poria-mushroom


From the manufacturer: 
The taste is sweet; light and it is neutral in effect [neither warming nor cooling] This product is the dried sclerotia of Poria cocos fungus. It has been used to cure problems of urination, swelling, phlegm, vomiting, diarrhea, spermatorrhea, diarrhea, palpitations, forgetfulness. It enters the Heart, Spleen, Lung and Kidney meridians. 
Indications: To infiltrate dampness [reduce edema] and increase diuresis, benefit the spleen and stomach, and calm the mind. It may be used to treat swelling, phlegm congestion, vomiting, diarrhea, spermatorrhea, palpitations, forgetfulness.      
Classical References: 
① "Ben Jing": Main use is for chest and flanking rebellion, anxiety, fear of infection or illness, palpitations, heart pain, fullness of cold and heat, coughing, mouth scorching dry tongue, and to ease urination.     
② "Do not record": quenches thirst, improves sleep, reduces belly, phlegm in the diaphragm, edema and lymph nodes. It opens the chest and fu organs, regulates the visceral qi, reduces kidney stress, increases the yin, replenishes vitality, protects the spirit and keeps the center. [helps fortify Dantian]    
③ "Medicinal Properties": appetizer, anti-vomiting, good peace of mind. The main use is for lung phlegm congestion. Treatment of epilepsy in children, fullness of the heart, inflammatory menstrual symptoms.     
④ "Rihuazi Materia Medica": to make up for the "five labors and seven injuries," to relieve the fetus, to warm the waist and knees, to improve mental clarity and stop forgetfulness.     
⑤ "Treatise on Febrile Diseases": to relieve the spleen.     
⑥ "Medical Qi Yuan": Dehumidification, benefit the waist and cord blood, and mainly replenish Qi. . . . stop diarrhea, eliminate deficiency and heat, open up the lower channels, and promote body fluid.     
⑦Wang Haogu: Reduce fluid retention in the bladder, benefit the spleen and stomach. Treatment of nephropathy 
⑧ "Medicinal Signs": Indications of palpitations and muscles and tendons, side effects of dizziness and irritability.
Dosage  Oral administration: decoction, 10~15g; or into pills. Mix with cinnabar for peace of mind. 
Cautions: Those with deficiency of coldness and slippery pulse or qi deficiency are not allowed to take it.