Digestive Comfort Tea / Wei Ning Tea (4.5oz)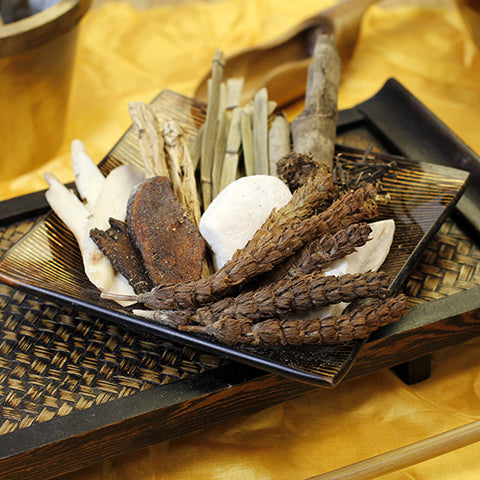 Digestive Comfort Tea / Wei Ning Tea (4.5oz)
Origin:
Product Weight:
Package Type:
In stock
Description:
御方胃寧茶
Digestive Comfort Tea / Yu Fang Wei Ning Herbal Tea
成份:
夏枯草, 木贼 , 薄荷, 威灵仙, 甘草, 党参, 海漂蛸, 延胡索, 白芍, 蒲公英, 救必应 
功效:舒肝和胃,理氣止痛
用法:煎服,五碗水煎成一碗后内服。
溫馨提示:請先向醫師咨詢是否合適服用此茶
Digestive Comfort Tea
御方胃寧茶 (Yu Fang Wei Ning Herbal Tea)
Effect:
Supports liver and stomach, regulates Qi and relieves pain
Several natural painkiller herbs are used in Digestive Comfort Tea and have been combined with herbs in order to the direction their action to improve digestion and address cramps and digestive irregularities. Clematis is anti-inflammatory, normally used for joint pain and stiffness (rheumatism), headaches, varicose veins, gout, bone disorders, ongoing skin conditions, and fluid retention. Cuttlefish bone is astringent (absorbs excess fluid) that stops leucorrhea (vaginal discharge), uterine bleeding, nocturnal emission, and premature ejaculation from kidney deficiency. In this formula it controls acidity and alleviates stomach pain, distasteful belching, acid reflux, and stops diarrhea due to kidney deficiency or dysentery with cramps. 
Herbs for digestive discomforts in the formula include corydalis known to Chinese herbalists as a calming painkiller herb sometimes given post surgery to ease tensions.
The final garden herb in Digestive Comfort Tea is holly bark jiu bi ying (Cortex Ilicis rotundae).  Chinese herbals describe the bark as bitter, cold; entering the lung, stomach, large intestine and liver meridians. Its actions are to clear heat and remove toxicity and alleviate pain. It has been used for rheumatic arthritis, traumatic injury, sores and boils, sore throat, diarrhea due to damp-heat, abdominal distension, and fever due to digestive disturbance. 
Ingredients: 
Spica Prunellae, Herba Equiseti Hiemalis, Mint, Clematis Root, licorice root, Radix Codonopsis, Sepiae Endoconcha, Corydalis Rhizoma, White peony root, Dandelion, Ilicis Rotundae Cortex
Directions:
Add six bowls of water. Boil six bowls of water into one bowl, then filter and take the soup. 
The amount of water is a key point because it can directly affect the efficacy of traditional Chinese medicine, so if cooking the herbal soup according to the guidelines, the best results will be achieved.
Suggestions:
The cleansing herbs in this formula are rather bitter. The traditional way to prepare them is to make a strong water extract. "五碗水煎至一碗 Boil five bowls of water to one." However, we suggest that you gradually get used to their healing benefits: Simmer the herbs in water for 20 minutes. Steam your face to help prevent skin blemishes and inhale the aroma. Let it cool somewhat and drink a small cup. It may taste better cold or with a little lemon. Cook it a second time for  45 minutes to one hour and drink a small cup before meals as needed to ease digestion. It keeps in the refrigerator for up to three days. If you are creative you might make ice cubes from the liquid and add them to a Bloody Mary instead of bitters. 

Please consult your physician before using this product.