Tsaoko Amomum Fruit/ Red Cardamom/ Cao Guo(3oz/Bag)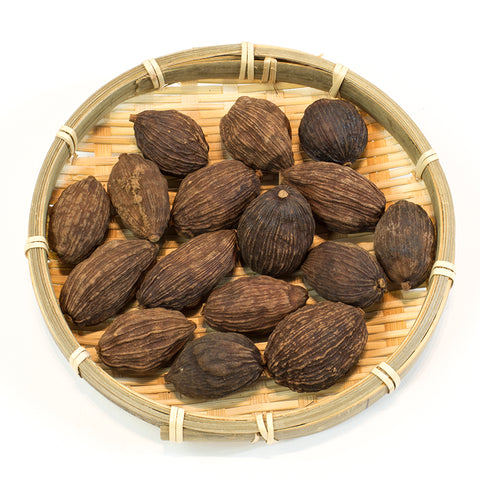 Tsaoko Amomum Fruit/ Red Cardamom/ Cao Guo(3oz/Bag)
Origin: China
Product Weight: 3 oz
Package Type: Bag
In stock
Description:
草果(3oz/包)
性味
味辛;性温
归 经
归脾、胃经。
功效
本品为姜科植物草果的干燥成熟果实。 用于寒湿内阻,脘腹胀痛,痞满呕吐,疟疾寒热,瘟疫发热
Tsaoko Amomum Fruit/ Red Cardamom/ Cao Guo(3 oz/Bag)
Red Cardamom - also known as Cau Guo or Chinese Black Cardamom, has an earthy and gently smoky aroma. It is popular in regional Chinese cuisines. Delicious in slow-cooked meat dishes and Vietnamese pho.
https://www.spicejungle.com/red-cardamom-cao-guo
In Traditional Chinese Medicine (TCM), tsaoko fruits belong to the 'Aromatic herbs that transform Dampness' category. This category of herbs resolves a TCM condition called 'Cold Damp Stagnation', especially as it affects the Stomach and Spleen. In modern Western medicine, this often translates into symptoms such as distended chest and abdomen, lack of appetite, nausea, and vomiting. As suggested by its category tsaoko fruits are plants that are Warm in nature. https://www.meandqi.com/herb-database/tsaoko-fruit


From the manufacturer: 
The taste is pungent; warm in nature and effects. This product is the dry and mature fruit of the ginger family plant. Indications: For malaria, fullness of phlegm, cold pain in the abdomen, nausea, vomiting, diarrhea, food accumulation.