Kweifeng Ji Sheng Cha/Dried Ramulus Taxilli (500 g/Box)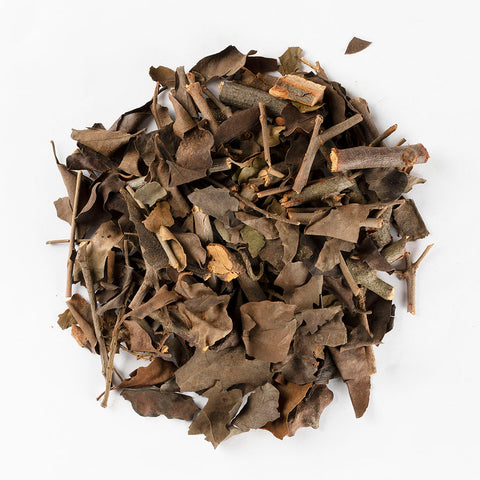 Kweifeng Ji Sheng Cha/Dried Ramulus Taxilli (500 g/Box)
Origin: Guangxi, China
Product Weight: 500g
Package Type:
In stock
Description:
广西 桂峰牌 正地道 寄生茶 桑寄生
Mistletoe

(500克/盒)

性味
苦;甘;性平
功效
为桑寄生科植物桑寄生、四川寄生、红花寄生、毛叶钝果寄生的枝叶。 补肝肾,强筋骨,除风湿,通经络,益血,安胎。治腰膝酸痛,筋骨痿弱,偏枯,脚气,风寒湿痹,胎漏血崩,产后乳汁不下。
经脉
肝经;肾经
用法用量
内服:煎汤,10~15g;或入丸、散;或浸酒;或捣汁服。
外用:适量,捣烂外敷。
食疗方
桑寄生煲鸡蛋
桑寄生15 g,鸡蛋2枚。精盐适量。将桑寄生、鸡蛋各洗净,共入砂锅,加水用文火煎煮,至鸡蛋熟后去壳再煮10分钟,稍加精盐即成。饮汤吃蛋。功效:补益肝肾,强壮筋骨,养血安胎。主治肝肾亏虚所致的腰膝酸痛、四肢麻木、筋骨痿弱、胎动不安或胎漏等。
Kweifeng Ji Sheng Cha/Dried Ramulus Taxilli (500 g/Box)
Ji Shen Cha is known in many Chinese medical classics as preserving health and increasing lifespan. (AKA Mulberry Mistletoe, Chinese Stem & Leaf, mulberry mistletoes, Chinese Taxillus Twig, Herba Taxilli; Ramulus,  White Mulberry Twig; Botanical Name:  Taxillus chinensis)
Function: Sang Ji Sheng expels wind and dampness, invigorates the liver and kidney, strengthens tendons and bones and prevents miscarriage. Application: Sang Ji Sheng is used for joint pain due to rheumatoid arthritis, especially useful in the treatment of pain and weakness in waist and knees. (Asante-academy.com)
Sang Ji Sheng supports cardiovascular health, promotes circulation and relieves heat-wind symptoms such as joint pain. The taste is bitter, and it is considered neutral. It enters the Liver and Kidney meridians.

Components:  flavonons, avicullarin, quercetin, d-catechol, quertitrin, hyperin, oleanolic acid, beta-amyrin, mesoinositol lupeol, myristic acid, flavonas, arobinose, resveratrol, moracin. (1stchineseherbs.com)