Rhizoma Ligustic/ Chuan Xiong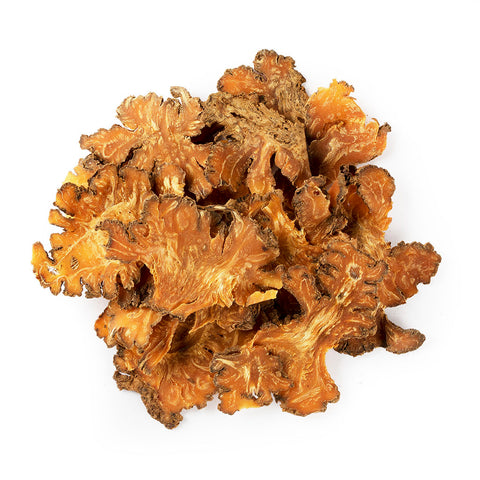 Rhizoma Ligustic/ Chuan Xiong
Origin: Guangdong, China
Product Weight:
Package Type: Box
In stock
Description:
广东 精制川芎片
山鞠穷、芎藭、香果、胡藭、马衔、芎藭、雀脑芎、京芎、贯芎、抚芎、台芎、西芎
为伞形科植物川芎的根茎。
性味
味辛;性温
经脉
归肝经、胆经、心包经
主治
行气开郁,祛风燥湿,活血止痛。治风冷头痛旋晕,难产,产后瘀阻块痛,痈疽疮疡,月经不调,经闭痛经,瘕腹痛,胸胁刺痛,跌扑肿痛,风湿痹痛。
食疗方
1.羊肾馄饨
羊肾50克,肉桂3克,川椒(花椒)2克,川芎5克,面粉250克,酱油、精盐适量。将肉桂、川椒、川芎研末备用。将羊肾去皮漂洗,使腰臊除净,剁成肉茸,加入药末及适量的酱油、精盐拌匀成馅。以常法做成馄饨。温热食用。
功效 温阳散寒,活血止痛,主治痛经。
2.川芎蛤蜊汤
蛤蜊肉200克,川芎10克,土豆、调料等各适量。将川芎加水适量煎取约50毫升的药汁,过滤去渣后备用,把土豆切片放入锅中,倒入川芎汁和适量的水,煮至土豆将熟时,把用盐水洗过的蛤蜊肉放入锅中,煮开后加入葱等调味品即可。
功效 强精、活血、造血及安神。主治冠心病,心绞痛,月经不调,痛经等症。
3.川芎鳝鱼汤
川芎6克,当归15克,鳝鱼500克,料酒适量。将鳝鱼剖去背脊骨、内脏、头尾,切成鱼片后切丝,将当归、川芎装入纱布袋内封口。将鱼丝、药袋放入锅中,加入料酒、调味品、适量清水用武火烧沸,去浮沫再用文火煎熬1小时,捞出药袋加入味精即成。食鱼饮汤,分餐食用。
功效 活血养血,通脉止痛。主治辅治损伤、头痛、眩晕。
 https://zhongyibaike.com/
Slice Of Rhizoma Ligustic/ Chuan Xiong
Rhizoma Chuanxiong (RC), the dried rhizome of Ligusticum chuanxiong Hort. (Umbelliferae), is a major cardiovascular protective Chinese herb especially for treating angina pectoris, cardiac arrhythmias, hypertension, and stroke. https://cmjournal.biomedcentral.com/articles/10.1186/s13020-015-0031-3
Ligusticum Wallichi , also known as Ligusticum Root is a Herb used to improve the circulation of blood throughout the body. It helps in the formation of blood and prevents stagnation of Blood. (herbpathy.com)

As a helping assistant [herb], it can expel wind-dampness, regulate the Qi in the head and relieve headache. Chuan Xiong also serves as assistant and is used to activate the Qi and blood, expel wind and relieve headache.
(sciencedirect.com)
Chuan xiong [ligusticum] and tang kuei steeped as a tea is a pleasant tasting nervous headache remedy.
Diet Therapy 
Lamb Kidney wonton  
Ingredients:
50 grams of lamb kidney, 3 grams of cinnamon, 2 grams of pepper (Zanthoxylum bungeanum), 5 grams of Ligusticum chuanxiong, 250 grams of flour, soy sauce and salt. 
Grind the cinnamon, pepper, and Chuanxiong into the powder for later use. Peel the sheep kidneys and rinse them to remove the scum on the waist, chop them into minced meat, add the powdered medicine, an appropriate amount of soy sauce, and salt to mix well to form a filling. Make it as Wonton as usual way.
Efficacy: Warming Yang and dispelling cold, promoting blood circulation and relieving pain, and treating dysmenorrhea.
Ligusticum chuanxiong

Clam soup  
Ingredients:
200 grams of clam meat, 10 grams of Ligusticum chuanxiong, potatoes and seasonings. 
Simmer the chuanxiong with water in an appropriate amount to cook about 50ml of concoction, filter to remove the residue, and set aside. Put the potato slices into the pot, pour the chuanxiong juice and appropriate amount of water, boil until the potatoes are almost cooked. Wash the clams with saltwater. Put the clam meat in the pot, and add the onion and other condiments after it is boiled.  
Efficacy:Strengthens essence, invigorates blood, hematopoiesis, and soothes the nerves. Indications: for coronary heart disease, angina pectoris, irregular menstruation, dysmenorrhea, and other diseases.