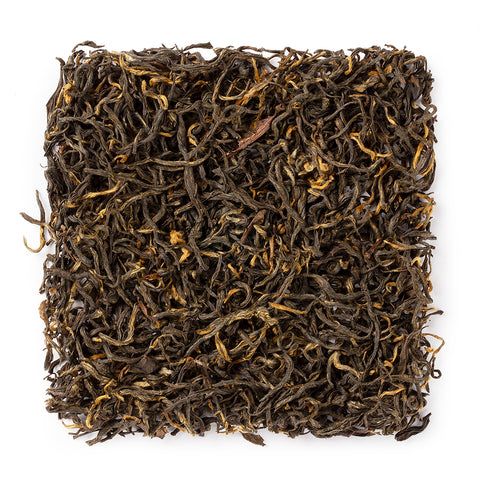 Kungfu Black Tea #1278
Origin: Fujian, China
Product Weight: 4 oz/1 lb
Package Type: Bag
In stock
Description:
品牌Brand:
永合豐 雀石茗茶WHF Twin Birds
产地Origin:
福建 Fujian, China
品名Name:
坦洋工夫茶Kungfu Black Tea
保质期Shelf Life:
36 months
分类Sort:
红茶 Black Tea
Caffeine Level:
☆☆☆☆☆
干茶
Body:
条索紧实粗壮,有白毫,乌黑光亮
Dark black, glossy tea leaves
茶汤
Liquor:
汤色金黄,香味醇厚
Chestnut brown. Complexly nutty, bold, and woodsy
储存方法
Storage:
常温、阴凉、干燥、可长期保存
Store in airtight, opaque packaging; in cool, dry place
坦洋工夫紅茶是福建省三大工夫紅茶之一,相傳于清咸豐、同治年間(1851一1874),由福安市坦洋村人試製成功,迄今已有100多年。產區分佈很廣,以福安市坦洋村為中心遍及福安、柘榮、壽甯、周寧、霞浦及屏南北部等地。以當地有性群體種為原料,外形緊結圓直勻整,帶白毫,色澤烏黑有光,內質香氣清鮮高爽,湯鮮豔呈金黃色,滋味醇厚,葉底紅勻光亮。

The term Kungfu is a term used to describe the Chao Zhou and Min Nan way of preparing tea in a skillful manner. Rather than focusing on symbolic hand gestures like Japanese tea ceremonies, Kungfu focuses on accomplishing a great taste of tea to satisfy the soul. This tea is characterized by fine, unbroken Taiwanisted leaves.
| | | |
| --- | --- | --- |
| Brewing Method: | Teacup |  Chinese Gaiwan |
| Water volume: | 12oz / 355ml | 3.8oz / 110ml |
| Temperature: | 194℉ / 90℃ | 194℉ / 90℃ |
| Tea Quantity: | 2 g Tea | 5 g Tea |
| Brewing time:  | 2 - 5 mins | 6 steeps: rinse, 10s, 10s, 15s, 15s, 25s, 40s |
| | |  Rinse time is around 5 seconds |