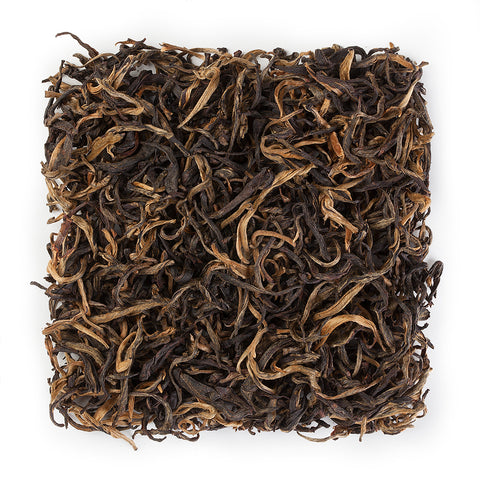 Dianhong Black Tea #1124
Origin: Yunnan, China
Product Weight: 4oz/ 1lb
Package Type:
In stock
Description:
品牌Brand:
永合豐 雀石茗茶WHF Twin Birds
产地Origin:
云南 Yunnan, China
品名Name:
滇红Dianhong Black Tea
保质期Shelf Life:
36 months
分类Sort:
红茶 Black Tea
Caffeine Level:
☆☆☆☆☆
干茶
Body:
金黄饱满,金毫显露,条索粗壮
Long and well-twisted strips with golden tips
茶汤
Liquor:
橙红通透,蜜香充足
 Complexly nutty, bold, and woodsy
储存方法
Storage:
常温、阴凉、干燥、可长期保存
Store in airtight, opaque packaging; in cool, dry place
Dianhong,Black tea from Yunnan province is generally called Dianhong Tea. This  is a type of relatively high-end, gourmet Chinese black tea sometimes used in various tea blends and grown in Yunnan Province, China. The main difference between Dianhong and other Chinese black teas is the amount of fine leaf buds, or "golden tips," present in the dried tea. Dianhong teas produces a brew that is brassy golden orange in colour with a sweet, gentle aroma and no astringency. Cheaper varieties of Dianhong produce a darker brownish brew that can be very bitter.
滇红茶,属大叶种类型的工夫茶,主产云南的临沧、保山、凤庆等地,是中国工夫红茶的后起之秀。以外形肥硕紧实,金毫显露和香高味浓的品质独树一帜,而称着于世。滇红工夫外形条索紧结,肥硕雄壮,干茶色泽乌润,金毫特显,内质汤色艳亮,香气鲜郁高长,滋味浓厚鲜爽,富有刺激性。叶底红匀嫩亮,国内独具一格,系举世欢迎的工夫红茶。
| | | |
| --- | --- | --- |
| Brewing Method: | Tea cup |  Chinese Gaiwan |
| Water volume: | 12oz / 355ml | 3.8oz / 110ml |
| Temperature: | 194℉ / 90℃ | 194℉ / 90℃ |
| Tea Quantity: | 2 g Tea | 5 g Tea |
| Brewing time:  | 2 - 5 mins | 6 steeps: rinse, 10s, 10s, 15s, 15s, 25s, 40s |
| | |  Rinse time is around 5 seconds |