Suberect Spatholobus Stem/ Ji Xue Teng 16 oz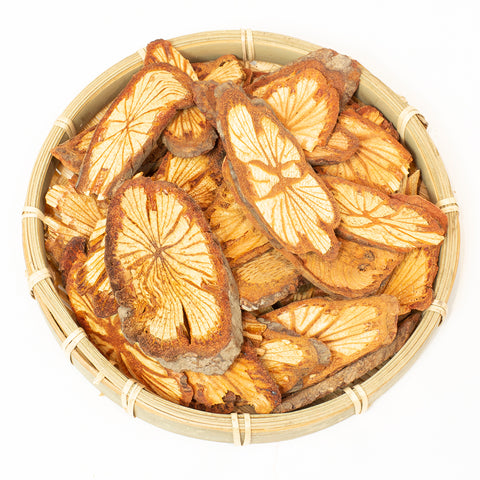 Suberect Spatholobus Stem/ Ji Xue Teng 16 oz
Origin: China
Product Weight: 16 oz
Package Type: Bag
In stock
Description:
鸡血藤 16oz
马鹿藤、紫梗藤、猪血藤、九层风、血龙藤、过岗龙、五层血
性味
味苦;微甘;性温
功效
为豆科植物密花豆的藤茎。 活血舒筋,养血调经。主手足麻木,肢体瘫痪,风湿痹痛,妇女月经不调,痛经,闭经。
经脉
心经;脾经
用法用量

内服:煎汤,10~15g,大剂量可用至30g;或浸酒。
注意禁忌
食疗方
鸡血藤炖肉方
鸡血藤干品10~15克,瘦猪肉150克。二味共炖至肉烂,食肉服汤。每日1次,5天为一疗程。
功效:养血补肝,搜风通络。
出自: zhongyibaike.com
Suberect Spatholobus Stem/ Ji Xue Teng 16 oz
Spatholobus stem aka Millettia Root is warm in nature, bitter and sweet in flavor, and mainly manifests its therapeutic actions in the Liver meridian. . . Spatholobus stem has active components like flavonoids, triterpenes, anthraquinones, and sterol derivatives
Spatholobus stem is often used for conditions like sallow complexion due to blood deficiency, limb numbness, paralysis in the limbs or body, rheumatic joints, irregular menstruation, menstrual pain or missed [menstrual] periods. . . .
Studies showed that Spatholobus stem has effects in promoting hematopoiesis function [the production of all types of blood cells including formation, development, and differentiation of blood cells], expanding blood vessels, anti-coagulation, enhancing uterine contraction, reducing blood lipid, anti-tumor, anti-virus, immune modulation, anti-inflammation, antioxidant, tranquilizing and promoting sleep. (shen-nong.com)