South American Dried Fish Maw #438 (14-16 pcs/Lb)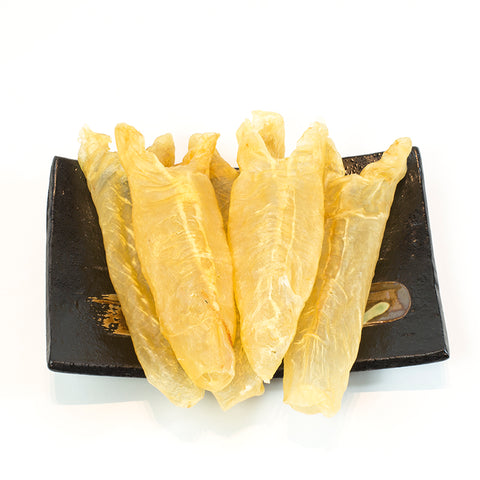 South American Dried Fish Maw #438 (14-16 pcs/Lb)
Origin: Brazil
Product Weight:
Package Type:
In stock
Description:
 精選 南美深海 黄花膠筒#438(14-16頭/磅) 
花胶的主要成分为高级胶原蛋白、多种维生素及钙、锌、铁、硒等多种微量元素。其蛋白质含量高达84.2%,脂肪仅为0.2%,是理想的高蛋白低脂肪食品。
从中医角度,花胶极有滋补食疗作用,《本草纲目》记载:花胶能补肾益精,滋养筋脉,能治疗肾虚滑精及产后(产后食品)风痉。花胶含丰富的蛋白质及胶质,具滋阴养颜,补肾,强壮机能。腰膝酸软,身体虚弱,最适宜经常食用。
South American Dried Fish Maw #438 (14-16 pcs/Lb)
The main components of flower maw are high-grade collagen, a variety of vitamins, calcium, zinc, iron, selenium, and other trace elements. The protein content is as high as 84.2%, and the fat is only 0.2%. It is an ideal high-protein and low-fat food.

From the perspective of traditional Chinese medicine, flower maw has a nourishing and therapeutic effect. "Compendium of Materia Medica" records: flower maw can nourish the kidney and essence, nourish muscles and veins, and can treat kidney deficiency and smooth essence and postpartum (postpartum food) wind cramps. Flower maw is rich in protein and gum, with nourishing yin, nourishing skin, nourishing kidney, and strengthening functions. The waist and knees are sore and weak, and the body is weak, so it is most suitable for regular consumption.