Four Spirits Soup/ Si Shen Soup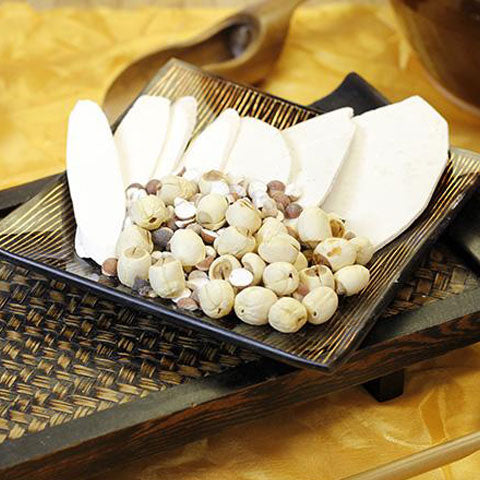 Four Spirits Soup/ Si Shen Soup
Origin:
Product Weight:
Package Type:
In stock
Description:
四神汤
Four Spirits Soup / Si Shen Soup
成分:芡实、淮山、莲子、茯神
四神汤是中医著名的健脾食方,其中"四神"是指茯苓,淮山,莲子和芡实(或薏仁),汇集在一起后互相补遗,制成的汤水对人体具有养颜、清火、利尿等诸多益处,几乎发挥出了"无敌"的功效,四神之名当之无愧。
"四神"都有补益脾阴、厚实肠胃的功能,可以治疗消化不良、容易拉肚子,能吃不长肉、长不胖的人,且价格大众,是瘦人增肥食疗佳品。加入猪肚一起煲,更有帮助消化之效。
喝此汤要注意不能与其它药物同时服用,饮食宜清淡为主,忌烟酒辛辣大荤。此汤宜温服,还可用于防治疾病、辅助治疗、病后调理、摄生自养等。
晨起空腹一碗温热的汤滋润肠胃,极易吸收,还很适合老年人及病后体虚之人,可谓寓治疗与饮食之中,一举两得。
用法:煎服,五碗水煎成一碗后内服。
溫馨提示:請先向醫師咨詢是否合適服用此茶
Four Spirits Soup
四神湯 (Si Shen Herbal Soup)
Effect:
Fortifies energy, digestion, weight loss, mental clarity, improved breathing
In traditional Chinese medicine (TCM) Shen, usually translated as spirit, refers to our consciousness, thoughts and emotions. A spirit or shen occupies and influences each of our deep organs. These spirits may be damaged by our actions, thoughts and emotions. It's the TCM mind/body connection, an important part of understanding who we are and our ability to comprehend and act out our destiny. Our shen make us human and keeps us well. This soup, named in honor of shen, supports healthy digestion and kidney/adrenal energy with foods that detoxify the body and support vitality and mental clarity with enhanced digestion. 
This bland-tasting soup may be used for fasting, as part of a weight loss program, for deep cleansing from undigested food (and thoughts and relationships.) It can improve low energy that is due to poor digestion and phlegmy congestion that weakens breathing. 
Ingredients:
Euryale Seed/fox nuts, Radix dioscoreae/white yam root, Lotus seed,Tuckahoe with pine, fuling
Directions:
Add five bowls of water. Boil five bowls of water into two bowl, then filter and take the soup. 
The amount of water is a key point because it can directly affect the efficacy of traditional Chinese medicine, so if cooking the herbal soup according to the guidelines, the best results will be achieved.

Please consult your physician before using this product.