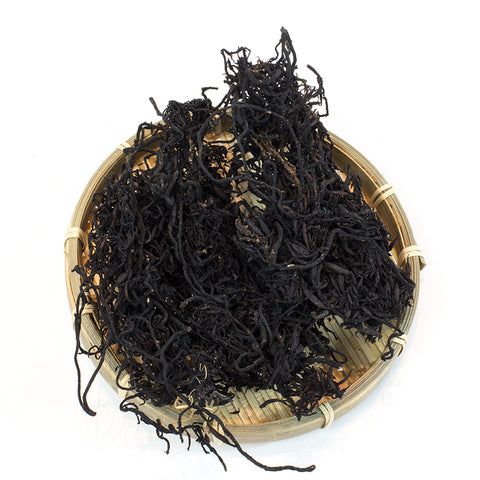 Sargassum/ Hai Cao 8oz
Origin: China
Product Weight: 8 oz
Package Type: Bag
In stock
Description:
洗净 淡海草(8 oz/包)
性味
咸,寒。
功效
为大叶藻科植物大叶藻的全草。治瘿瘤结核,疝瘕,水肿,脚气。
经脉
膀胱经
主治
清热化痰,软坚散结,利水。治瘿瘤结核,疝瘕,水肿,脚气。
 https://zhongyibaike.com/
Sargassum/ Hai Cao(8 oz/ Bag)
Sargassum species are tropical and sub-tropical brown macroalgae (seaweed) of shallow marine meadow. These are nutritious and rich source of bioactive compounds such as vitamins, carotenoids, dietary fibers, proteins, and minerals. Also, many biologically active compounds like terpenoids, flavonoids, sterols, sulfated polysaccharides, polyphenols, sargaquinoic acids, sargachromenol, pheophytine were isolated from different Sargassum species. These isolated compounds exhibit diverse biological activities like analgesic, anti-inflammatory, antioxidant, neuroprotective, anti-microbial, anti-tumor, fibrinolytic, immune-modulatory, anti-coagulant, hepatoprotective, anti-viral activity, etc., Hence, Sargassum species have great potential to be used in pharmaceutical and neutralceutical areas. https://www.ncbi.nlm.nih.gov/pmc/articles/PMC3931196/
It is characterized by a high level of proteins and a low level of lipid, like S. fusiforme and Saccharina japonica used in human nutrition and, therefore, can be used for human consumption as an alternative source of essential amino acids and some polyunsaturated acids, such as oleic, linoleic, linolenic and eicosapentaenoic acids, or as functional ingredients to reduce calories and modify the texture of formulated foods. This seaweed is also rich in some minerals, such as iron and zinc, and so may be used as a food supplement to supply these minerals at low inclusion levels. https://www.ncbi.nlm.nih.gov/pmc/articles/PMC3564154/
Sargassum is also eaten by itself or added to fish and meat dishes. If not strong it can be added to salads after washing, or it can be cooked in water like a vegetable. (eattheweeds.com)

From the manufacturer: 
The taste is salty and it is cold in its effect. It is the whole plant of the Zosterol plant. It has been used to treat gallbladder problems, tuberculosis, hernia, edema, athlete's foot. It enters the Bladder meridian. Indications: To clear away heat [inflammation] and resolve phlegm, soften the firmness and dispel knots [dissolve cysts and masses], and diuretic.