Sweet Digestive Tea / Er Ke Qi Xing Herbal Tea (2.5oz)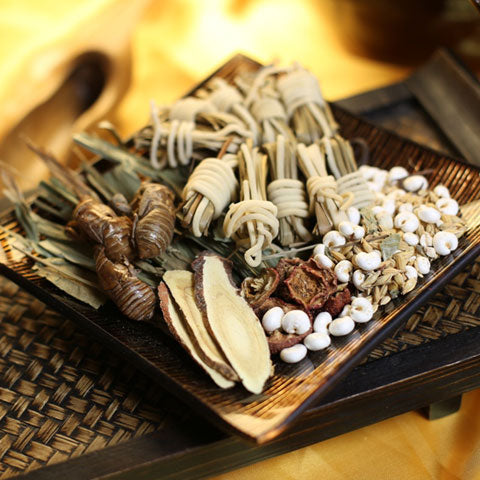 Sweet Digestive Tea / Er Ke Qi Xing Herbal Tea (2.5oz)
Origin:
Product Weight:
Package Type:
In stock
Description:
七星茶
Sweet Digestive Tea / Er Ke Qi Xing Herbal Tea
成分:薏苡仁、稻芽、山楂、淡竹叶、钩藤、蝉蜕、甘草。七味药制成,故名:七星茶。
七星茶是一种药物。七星茶功能与主治:开胃消滞,清热定惊。用于积滞化热,消化不良,不思饮食,烦躁易惊,夜寐不安,大便不畅,小便短赤。
用法:煎服,三碗水煎成一碗后内服。
Sweet Digestive Tea
兒科七星茶 (Er Ke Qi Xing Herbal Tea)
Effect:
Settles the stomach, indigestion and congestion
This is a version of a classic tea, Xiao Er Qi Xing, used to help resolve bloating, indigestion pain, and excess phlegm. Chinese mothers give the herbal tea as the final formula of the day for babies to help them sleep peacefully by easing digestion. This version uses rice sprout instead of millet and uncaria (gou teng) to cool liver agitation.
Have you ever lay awake at night, thinking, planning, fretting, or have you slept poorly from feeling too full of food or suffering from stomach pain? This tea is a gentle remedy for people who need to cool their nerves and improve digestion. 
Ingredients : 
Fired barley/semen coicis, Raw barley/semen coicis, Oryzae Fructus Germinatus/ rice sprout, Dried Cicada skin, Juncus allioides flower/ common rush flower, Bamboo leaves, Loquat Leaf, Licorice root, Crataegi Fructus, hawthorn berry, Uncariae stem and thorn/ gou teng
Directions:
Add three bowls of water. Boil three bowls of water into one bowl, then filter and take the soup. 
The amount of water is a key point because it can directly affect the efficacy of traditional Chinese medicine, so if cooking the herbal soup according to the guidelines, the best results will be achieved.
Suggestions:
This tea may be too cleansing for pregnant women. Avoid cleansing remedies that may be laxative or diuretic for you. The traditional method of preparation is  "三碗水煎至一碗 Boil three bowls of water to one" which makes a rather strong tasting water extract. It may be wise to begin more slowly by simmering the herbs for about 20 minutes and drink it as a pleasant tea. After becoming familiar with its taste and effects, the cooking time can be increased as needed. 

Please consult your physician before using this product.