Prime Platycodon Root/ Balloon Flower Roots / Jie Geng 16oz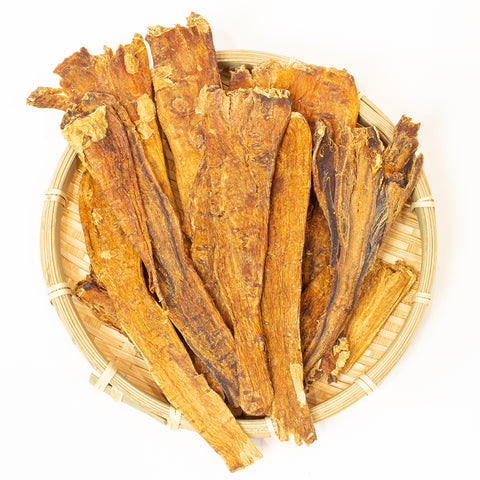 Prime Platycodon Root/ Balloon Flower Roots / Jie Geng 16oz
Origin: China
Product Weight: 16 oz
Package Type: Bag
In stock
Description:
特大 桔梗片 16oz
苦梗 白桔梗 梗草 利如 符蔰 卢茹 房图 荠世纪 苦桔梗 大药 玉桔梗
性味
味苦;辛;性平
功效
为桔梗科植物桔梗的根。 主治外感咳嗽,咽喉肿痛,肺痈吐脓,胸满胁痛,痢疾腹痛。
经脉
归肺经;胃经
主治
开宣肺气,祛痰排脓。治外感咳嗽,咽喉肿痛,肺痈吐脓,胸满胁痛,痢疾腹痛。
用法用量
内服:煎汤,3~10g;或入丸、散。
外用:适量,烧灰研末敷。
注意禁忌
阴虚久嗽、气逆及咳血者忌服。
Prime Platycodon Root/ Balloon Flower Roots / Jie Geng 16oz
Balloon Flower Roots are commonly used for treating bronchitis, asthma, hypertension, tuberculosis, diabetes, and other inflammatory diseases in Korea. They are used as a cough suppressant and expectorant for common colds, cough, sore throat, tonsillitis, and chest congestion in China. . . Jie Geng is a traditional Chinese medicinal herb used to expel pus, rid phlegm and disseminate Lung Qi. It supports respiratory health and benefits the throat. Jie Geng contains anti-inflammatory, antibacterial, expectorant, and immune-boosting properties.