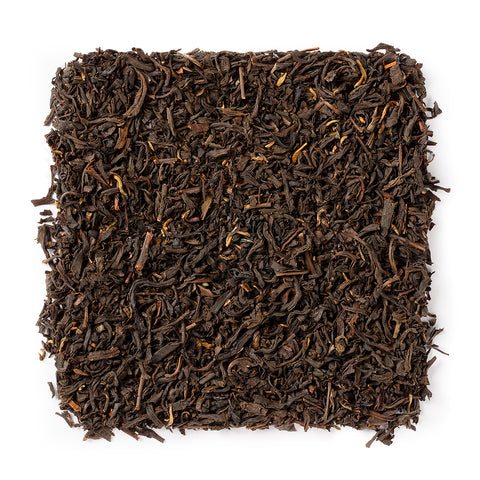 Lychee Black Tea #1330
Origin: China
Product Weight: 4 oz/ 1 lb
Package Type: Zip Bag
In stock
Description:
品牌Brand:
永合豐 雀石茗茶 WHF Twin Birds
产地Origin:
广东Guangdong, China
品名Name:
荔枝红茶 Lychee Black Tea
保质期Shelf Life:
36 months
分类Sort:
红茶 Black Tea
Caffeine Level:
☆☆☆☆☆
干茶
Body:
条索均匀,色泽乌润
This being a full leaf Assam, it is a medium bodied tea. 
茶汤
Liquor:
色泽醇厚,明亮橙黄,有荔枝香
 Distinctively fragrant and flavorful with citrus notes
储存方法
Storage:
常温、阴凉、干燥、可长期保存
Store in airtight, opaque packaging; in cool, dry place
荔枝红茶在将新鲜荔枝烘成干果过程中,以工夫红茶为材料,低温长时间,合并熏制而成,外型普通,茶汤美味可口,冷热皆宜,西式红茶如伯爵、锡兰皆难与其比拟,值得细细品味。
Lychee Black Tea #1330
Sweet fruity and floral aroma and honey-like taste
Black tea is produced from mature leaves that are plucked early in the day and processed in four basic steps. First, the leaves are withered, then rolled, fermented, and finally fired in large ovens at high temperatures. What sets this tea apart from the other black teas is that it is tossed and infused with sweet lychees (a tropical fruit). Enjoy it with milk and sugar, hot or iced. It gives a smooth & earthy with a mildly sweet finish taste.
Health Benefits of Lychee Fruit
Vitamins. Lychee fruit is a good source of vitamin C.  

Liver health. 

Anti-cancer activity. 

Lychee fruit contains a polyphenol called oligonol.
(webMD.com)
| | | |
| --- | --- | --- |
| Brewing Method: | Teacup |  Chinese Gaiwan |
| Water volume: | 12oz / 355ml | 3.8oz / 110ml |
| Temperature: | 194℉ / 90℃ | 194℉ / 90℃ |
| Tea Quantity: | 3 g Tea | 5 g Tea |
| Brewing time:  | 2 - 5 mins | 7 steeps: rinse, 10s, 15s, 20s, 35s, 50s, 80s, 140s |
| | |  Rinse time is around 5 seconds |