Panax notoginseng XL / San Qi (37.5 g)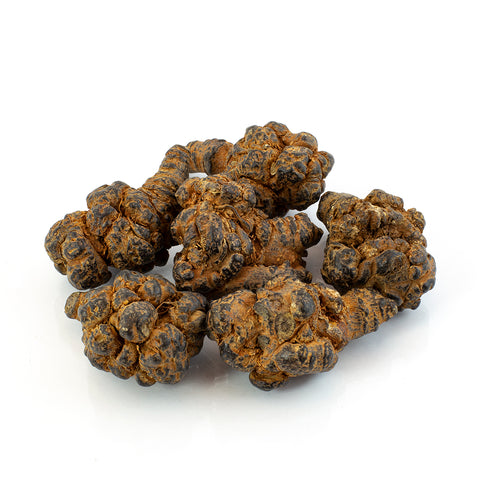 Panax notoginseng XL / San Qi (37.5 g)
Origin: China
Product Weight: 37.5 g
Package Type: Bag
In stock
Description:
特大 三七/ 田七头/
山漆

(37.5 克/ 包)

Panax notoginseng / San Qi

为五加科人参属植物三七的块根。
性味
甘微苦,温。
经脉
入肝经、胃经、大肠经。
主治
止血,散瘀,消肿,定痛。治吐血,咳血,衄血,便血,血痢,崩漏,癥瘕,产后血晕,恶露不下,跌扑瘀血,外伤出血,痈肿疼痛。
注意禁忌
孕妇忌服。
【食疗方】
1.鱼鳔田七方
黄花鱼鳔适量、三七末3克、黄酒适量,黄花鱼鳔用香油炸脆,压碎为末,每次5克,与田七末一同用黄酒冲服。每天1剂,连服15~20剂为1疗程。
本方可用于食道癌患者之血瘀内结型。
2.鸡蛋三七汤
三七末3克,鸡蛋1只。藕汁1小杯,料酒半小杯。鸡蛋打入碗内,加入三七末、藕汁、料酒,搅匀,加水搅拌稀释,放锅内隔水炖熟。当点心食用。
功效:补血活血止血。主治血虚血瘀所致的吐血衄血、血色紫、夹血块等。
3.灵芝三七饮
灵芝15g,三七粉4g。将灵芝洗净,放入砂锅,加清水适量,浸泡2小时,煎煮60分钟,取汤送服2g三七粉。锅中再加清水适量,煎煮40分钟,送服剩下的2g三七粉。每日1剂,早晚各服1次。
功效:益养心,活血能脉。主治心虚夹瘀所致的心悸心痛、形寒肢冷、唇舌发紫、脉涩或结代等。
Panax notoginseng  XL / San Qi (37.5 g)
During the Ming Dynasty, Sanqi was worth more than gold. It is a Chinese medicinal treasure.
Panax notoginseng is used to stop or slow down bleeding. It is sometimes taken by people who have nosebleeds, vomit up or cough up blood, or find blood in their urine or feces. Panax notoginseng is also used to relieve pain; and to reduce swelling and blood pressure.
(webMD.com)
Panax notoginseng is used for chest pain (angina), strokes and bleeding in the brain, buildup of fat in the blood vessels, heart attacks, and some kinds of liver disease. 
https://www.webmd.com/vitamins/ai/ingredientmono-906/panax-notoginseng
From the manufacturer: 
It is the root tuber of Panax notoginseng in the genus Araliaceae. (aka: san qi, tian qi)
The taste is sweet and bitter. It is warm. It enters the Liver, Stomach and Large Intestine meridians. 
Indications:  It is used to stop bleeding, dispel blood stasis, reduce swelling, and relieve pain. It has been used to cure vomiting blood, hemoptysis, epistaxis, hematochezia, bloody dysentery, uterine bleeding, symptom, postpartum haemorrhage, lochia, stasis, traumatic bleeding, carbuncle pain. 
Cautions: Avoid use during pregnancy. 
Diet Therapy
Fish Maw Tian Qi fang 
Ingredients:
Appropriate amount of yellow croaker maw, 3 grams of panax notoginseng powder, appropriate amount of rice wine, 
Fry the yellow croaker maw until it is fragrant. Crush it to make a powder. Gradually add 5 grams fish maw powder mixed with Tianqi powder and add yellow wine. 
Dosage: 1 dose a day, and take 15-20 doses continuously as a course of treatment.  
This prescription can be used for blood stasis in patients with esophageal cancer.
Egg panax notoginseng soup  
Ingredients:
3 grams of panax notoginseng, 1 egg. 1 small cup of lotus root juice, half a small cup of cooking wine. 
Beat the eggs into a bowl, add the powdered panax notoginseng, lotus root juice, and cooking wine, stir well, add water and stir to dilute. Put it in a pot and simmer in water. Serve as a snack.  Efficacy: Enriching blood and promoting blood circulation, also used to stop bleeding. 
Indications: for blood deficiency and blood stasis caused by vomiting blood, purple blood, bruises, blood clots, etc.
Lingzhi Panax notoginseng

 

Drink  
Ingredients: 
Ganoderma 15g, Panax notoginseng powder 4g. 
Wash the Ganoderma lucidum, put it in a casserole, add an appropriate amount of water, soak for 2 hours, decoct for 60 minutes, and drink the soup. Add 2g of Panax notoginseng powder and appropriate amount of water to the pot, cook for 40 minutes, and serve the remaining 2g of Panax notoginseng powder. 
Take 1 dose a day, 1 time each morning and evening.  
Efficacy: It is used to nourish the heart, invigorate blood circulation. 
Indications: for heart palpitations, angina, cold limbs, purple lips and tongue, irregular pulse or congestion caused by heart deficiency and blood stasis.