Jinxuan Osmanthus Flavor Silky Oolong Tea #1081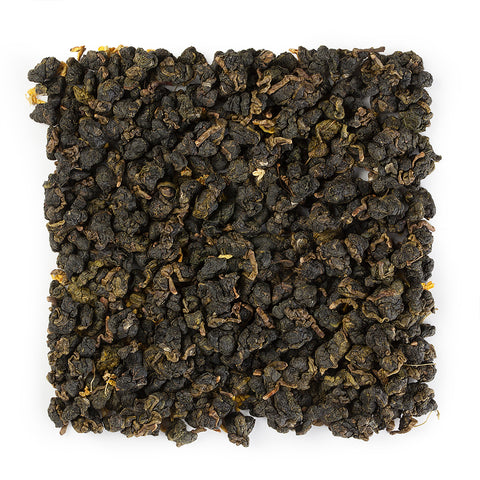 Jinxuan Osmanthus Flavor Silky Oolong Tea #1081
Origin: Taiwan
Product Weight: 4oz/1lb
Package Type: Bag
In stock
Description:
品牌Brand:
永合豐 雀石茗茶WHF Twin Birds
产地Origin:
台湾 南投县 Taiwan
品名Name:
金萱 桂花乌龙 Jinxuan Osmanthus Silky Oolong Tea
等级Level:
特級 supreme
分类Sort:
乌龙茶 Oolong Tea
保质期Shelf Life:
24 months
香型 Aroma:
清香型 faint scent
Caffeine Level:
☆☆☆☆
干茶
Body:
颗粒饱满,色泽墨绿,茶香飘逸
Rolled into a tight tiny ball shape, sand-green in color
茶汤
Liquor:
蜜黄明亮,口感顺滑,桂花香清雅
Silky, smooth, and buttery
储存方法
Storage:
常温、阴凉、干燥、可长期保存
Store in airtight, opaque packaging; in cool, dry place
台湾高山茶是指海拔1000米以上茶园所产制的半球型包种茶。台湾各产茶区内,海拔高度在1000米以上的地区。主要产地为嘉义县 、南投县 内海拔1000~1300公尺新兴茶区。
金萱是以硬枝红心作父本,台农八号作母本,人工培育而成的第一代。试验所的代号为2027,也就是茶改场成功育种的排列顺序第12号。做成半发酵茶,滋味甘醇浓厚,具有特殊的品种香,是类似桂花香或牛奶香。
目前金萱的种植面积,仅次于青心乌龙,占全台第二,位于海拔1,600公尺以下的茶区多有栽植。
Osmanthus Oolong is a fragrant green oolong infused with osmanthus flowers. It is ideal for tea lovers that prefer a fresh, green oolong quality and refined, floral balance to the brew.
Oolong is a fragrant semi-oxidized tea with a Heavenly aroma and a fresh floral aftertaste. Osmanthus herbal tea has been described as having a delicate fruity-floral apricot aroma while having a taste ranging from bittersweet to sweet sour.
| | | |
| --- | --- | --- |
| Brewing Method: | Teacup | Chinese Gongfu Method |
| Water volume: | 12oz / 355ml | 3.8oz / 110ml |
| Temperature: | 212℉ / 100℃ | 212℉ / 100℃ |
| Tea Quantity: | 5g Tea | 7g Tea |
| Brewing time:  |  3 - 5 mins | 6 steeps: rinse, 25s, 25s, 30s, 60s, 70s, 80s |
| | |  Rinse time is around 5 seconds |