Oriental Waterplantain Rhizome/ Ze Xie 16oz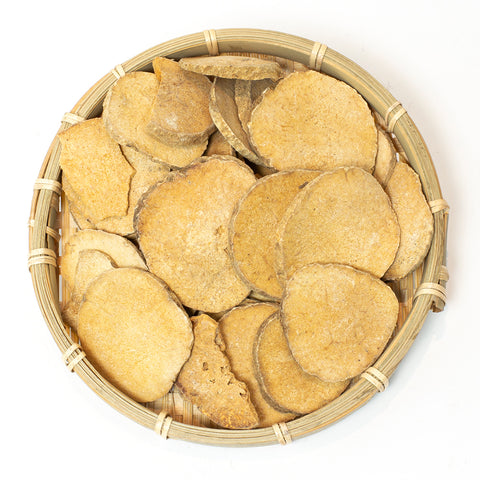 Oriental Waterplantain Rhizome/ Ze Xie 16oz
Origin: China
Product Weight: 16 oz
Package Type: Bag
In stock
Description:
泽泻 16oz
水泻、芒芋、鹄泻、泽芝、及泻、天鹅蛋、天秃、禹孙
性味
甘,寒。
功效
本品为泽泻科植物泽泻的干燥块茎。 治小便不利,水肿胀满,呕吐,泻痢,痰饮,脚气,淋病,尿血。
经脉
归肾经、膀胱经。
主治
利水渗湿,泄热通淋。治小便不利,水肿胀满,呕吐,泻痢,痰饮,脚气,淋病,尿血。
用法用量
内服:煎汤,6~12g;或入丸、散。
注意禁忌
肾虚精滑无湿热者禁服。
Oriental Waterplantain Rhizome, Rhizome of Oriental Waterplantain
Alisma is a plant that grows aggressively in shallow water and boggy spots in parts of Europe, North America, and Northern China. The Chinese translation of the name of this herb is "marsh drain." Alisma contains a pungent, volatile oil, which is the source of its medicinal attributes.
Alisma has been used as a diuretic, and it can be used to alleviate water retention. Its urination-promoting actions are used to reduce edema, urinary difficulties, diarrhea, and abdominal distention. Additionally, Alisma is used to help treat dizziness with heat and ringing in the ears. Studies have shown that Alisma lowers blood pressure. Alisma is known to lower lipids in the blood, lower blood cholesterol levels, exhibit antibacterial properties, and lower blood sugar.
(askdrmao.com)
Dosage Oral administration: decoction, 6~12g; or into pills or powder.

Cautions: People with kidney deficiency without dampness [edema] and heat [burning] are forbidden to take it.