Oriental Beauty Pom-Fong Oolong Tea(150 g)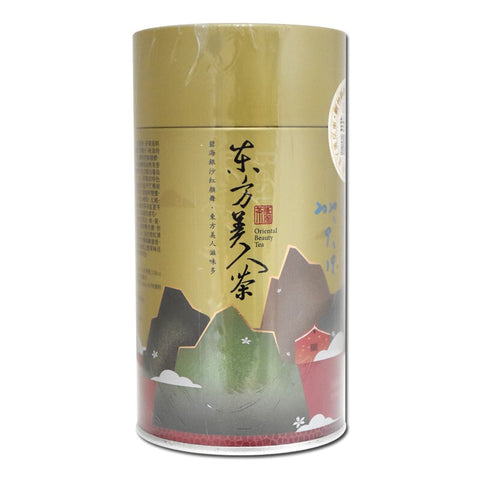 Oriental Beauty Pom-Fong Oolong Tea(150 g)
Origin: Xinzhu, Taiwan
Product Weight: 150 g
Package Type: Tin
In stock
Description:
台湾新竹 东方美人 乌龙茶(150克/罐)
是台湾独有的名茶,又名膨风茶,又因其茶芽白毫显著,又名为白毫乌龙茶,是半发酵青茶中,发酵程度最重的茶品,一般的发酵度为60%,有些则多达75-85%,故不会产生任何生菁臭味,且不苦不涩。主要产地在台湾的新竹、苗栗一带,近年台北坪林、石碇一带亦是新兴产区。东方美人茶名字的由来,据闻是英国茶商将茶献给维多利亚女王,黄澄清透的色泽与醇厚甘甜的口感,令她赞不绝口,既然来自东方福尔摩沙,就赐名"东方美人茶"了。
Oriental Beauty Pom-Fong Oolong Tea(150 g)
It is a famous tea unique to Taiwan, also known as puffed tea. It is also known as the high-grade "Pekoe" Oolong tea because of its prominent tea buds. It is the most fermented tea product among semi-fermented green teas. The general fermentation rate is 60%. Some are as high as 75-85%, so they will not produce any green odor, and it is neither bitter nor astringent. 
The main producing areas are in Hsinchu and Miaoli in Taiwan. In recent years, Pinglin and Shiding in Taipei are also emerging producing areas. The origin of the name Oriental Beauty Tea is that the British tea merchants gave tea to Queen Victoria. She praised the clear color and mellow, sweet taste of the yellow-colored tea. Since it came from Oriental Formosa, she gave it the name "Oriental Beauty" Tea.
Brew Method:
 Warm up the tea vessel with boiling water then throw the water away.
Put some tea into an empty tea vessel and pour in about

185℉ / 85℃ hot water.

Cover the lid for 1 minute before serving.

Using cups made of china to drink will have the best taste.
新竹县东方美人茶优良茶比赛茶罐换全新包装,将能提升得奖茶的质感。(罗浚滨摄)