Achyranthes Root/ Niu Xi 16oz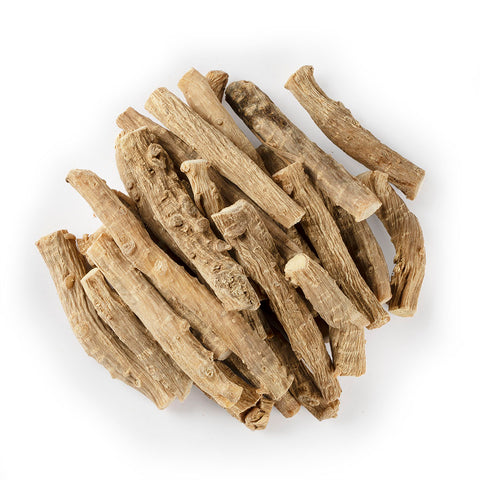 Achyranthes Root/ Niu Xi 16oz
Origin: China
Product Weight: 16 oz
Package Type: Bag
In stock
Description:
淮牛膝(16 oz)
淮夕 怀膝 牛磕膝 怀夕 脚斯蹬 铁牛膝 杜牛膝 真夕 红牛膝 牛克膝 牛盖膝 粘草子根 牛胳膝盖 野牛充膝 牛盖膝头 淮牛膝 怀牛膝 百倍 牛茎
本品为苋科植物牛膝的干燥根。
性味
苦、酸,平。
经脉
归肝经、肾经。
主治
补肝肾,强筋骨,利尿通淋,引血下行。治淋病,尿血,经闭,癥瘕,难产,胞衣不下,产后瘀血腹痛,喉痹,痈肿,跌打损伤,四肢拘挛,痿痹。
注意禁忌
凡中气下陷,脾虚泄泻,下元不固,梦遗失精,月经过多,及孕妇均忌服。
食疗方
1.牛膝酒
怀牛膝500克,糯米1000克。牛膝煎煮取汁,去渣,以部分药汁浸糯米,另一部分汁于糯米蒸熟后,拌和甜酒曲时加入,于温暖处发酵为米劳糟。每日2次,每次取50克煮食。
功效:补益肝肾,活血通脉。
2.牛膝当归蜜膏
牛膝50克,肉苁蓉500克,当归50克,蜂蜜适量。牛膝、肉苁蓉、当归加水适量浸泡透发,再加热煎煮,每20分钟取煎液一次,加水再煎,共取3次,合并煎液,再以小火煎熬浓缩成稠膏时,加蜂蜜1倍,至沸停火,待冷装瓶备用。
功效:温阳通便。
 https://zhongyibaike.com/
Achyranthes Root/ Niu Xi(16 oz)
Achyranthes bidentata is recommended to reinforce the muscles and bones, improve the tone of the liver and kidneys, promote blood flow and remove blood stasis, and increase longevity. https://www.ncbi.nlm.nih.gov/pmc/articles/PMC4235941/
From the manufacturer: 
This product is the dried root of Achyranthes bidentata Blume. The taste is bitter, sour, and flat. It enters the Liver and Kidney meridians. Indications:  Invigorates the liver and kidney, strengthens the bones and muscles, diuresis, and difficult birth. It has been used to cure gonorrhea, hematuria, amenorrhea, dyscrasia, dystocia, insomnia, postpartum stasis, abdominal pain, larynx, carbuncle, bruises, spasms of limbs, paralysis of limbs. 
Cautions: It is forbidden to take it if the qi sinks, with spleen deficiency, diarrhea, spleen deficiency, loss of sperm in dreams, menorrhagia, and pregnant women.
Diet Therapy 
Achyranthes Wine
Ingredients:
500 grams of Achyranthes, 1000 grams of glutinous rice. 
Cook a decoction of the Achyranthes to get the juice, remove the dregs, soak the glutinous rice with part of the concoction, and add the other part of the juice to the glutinous rice after it is steamed. 
Take 50 grams of cooked rice twice a day.  
Efficacy: It nourishes the liver and kidney, promotes blood circulation, and channels pulse. 
Achyranthes Angelica Honey Cream  
Ingredients:
50 grams of Achyranthes, 500 grams of Cistanche, 50 grams of Angelica, appropriate amount of honey. 
Add water to soak the achyranthes, cistanche, angelica, and then heat and cook a decoction. Take the decoction once every 20 minutes. Add water and decoct a total of 3 times. 
Combine the decoctions and simmer them over a low fire. Stop the fire, add the honey, and bottle it for later use.  
Efficacy: warming and laxative.