Dwarf Lilyturf Tuber/ Mai Dong (8oz/bag)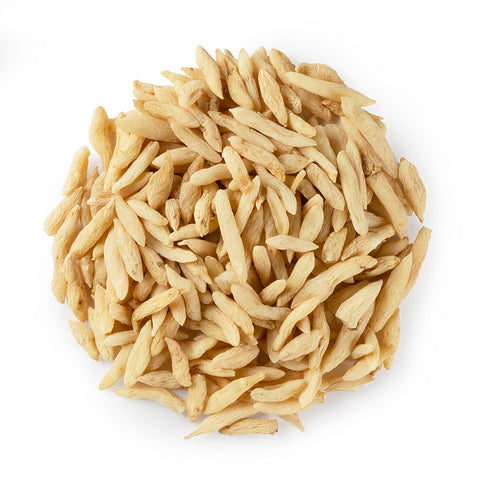 Dwarf Lilyturf Tuber/ Mai Dong (8oz/bag)
Origin: China
Product Weight: 8 oz
Package Type: Bag
In stock
Description:
麦冬粒(8oz/包)
性味
甘,微苦,微寒。
经脉
归心经、肺经、胃经。
主治
养阴润肺,清心除烦,益胃生津。治肺燥干咳,吐血,咯血,肺痿,肺痈,虚劳烦热,消渴,热病津伤,咽干口燥,便秘。
注意禁忌
凡脾胃虚寒泄泻,胃有痰饮湿浊及暴感风寒咳嗽者均忌服。
①《本草经集注》:地黄、车前为之使。恶款冬、苦瓠。畏苦参、青囊。
②《药性论》:恶苦芺。畏木耳。
③《纲目》:气弱胃寒者必不可饵。
Dwarf Lilyturf Tuber
/Radix Ophiopogonis 
/ Mai Dong 
(8oz/pack) 
Ophiopogonis is an herb known in traditional Chinese medicine for its ability to treat a yin deficiency, which means it is used to clear heat, dryness, and irritability. ... It is used to treat insomnia, anxiety, palpitations, and it is used to lower the blood pressure.
From the manufacturer: 
The taste is sweet, slightly bitter, and it is slightly cold. 
It enter the Guixin, Lung, and Stomach meridians. 
Indications: Nourish yins (fluids) and lungs, clears heart and remove troubles [helps regulate heart action], benefits stomach and promotes fluid. It has been used to cure dry cough, vomiting blood, hemoptysis, pulmonary dysfunction, pulmonary carbuncle, fatigue and irritation; it reduces thirst, fever and body injury, dry throat, dry mouth, and constipation.
Cautions: It should be avoided by those who suffer from diarrhea due to cold in the spleen and stomach, phlegm, dampness and turbidity in the stomach, and violent wind-cold cough. 
Avoid its use for patients with congested fluids.