Lung Moisturization Soup Package 6oz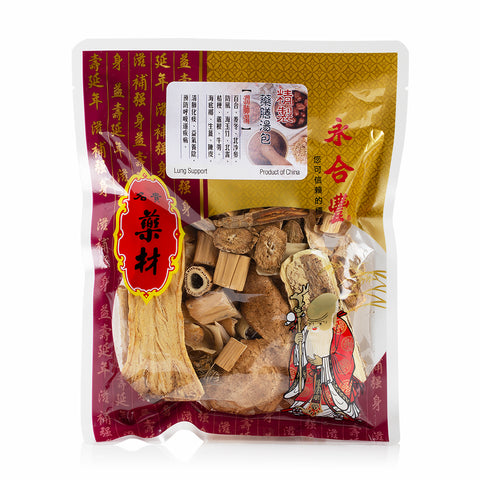 Lung Moisturization Soup Package 6oz
Origin: China
Product Weight: 0.6lb
Package Type:
In stock
Description:
润肺汤药包 6oz
成分: 百合,麥冬, 北沙參, 防風, 海玉竹, 北耆, 桔梗, 蘆根, 牛蒡, 海底椰, 生薑,陳皮.
做法: 先将药材浸泡20分钟, 瘦肉滚水煮去上沫, 放入药材煲内, 加至8碗水, 大火煲滚, 转细火, 煲60至90分钟, 分为3碗.
功效: 清肺化痰, 益气养阴,预防呼吸道疾病.
用法: 每日一碗, 可供一家3人服, 每周1~2次, 可与其他汤水交替服用. 
Lung Moisturization Soup Package 6oz
Lily, Ophiopogon japonicus, North American ginseng, wind parsnip, Polygonatum japonica, North Qi, Platycodon grandiflorum, reed root, burdock, sea coconut, ginger, dried tangerine peel.
Method: Soak the herbs for 20 minutes, boil the lean meat to remove foam, put it into the herb pot, add to 8 bowls of water, bring to a boil over high heat, turn to low heat, boil for 60 to 90 minutes, and divide into 3 bowls.

Efficacy: clearing lung and resolving phlegm, nourishing qi and nourishing yin, preventing respiratory diseases.

Usage: One bowl a day, can be taken by a family of 3, 1~2 times a week, can be taken alternately with other soups.