Lotus Leaf Tuo Cha Pu'er Dark Tea #1449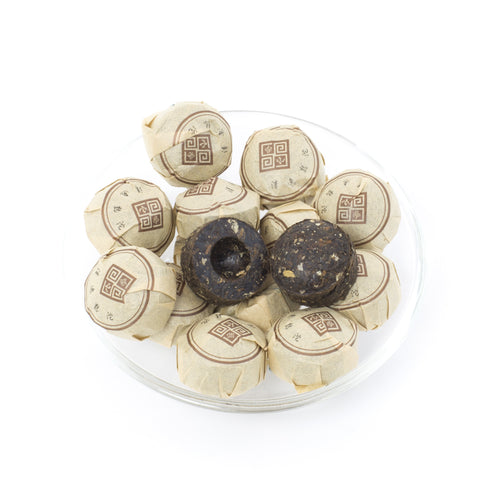 Lotus Leaf Tuo Cha Pu'er Dark Tea #1449
Origin: China
Product Weight:
Package Type:
In stock
Description:
荷香 迷你熟沱 普洱黑茶#1449
精选云南普洱熟茶,选用独立的密封包装罐,这种沱茶都是以干荷叶花片添加进去,压成沱形状的,每粒茶果正好沏泡一壶茶。产品具有干净、卫生、易冲易泡易携带的特点,符合现代都市白龄人士的饮茶理念,更贴合都市快生活节奏的生活工作方式。
Lotus Leaf Tuo Cha Pu'er Dark Tea #1449
Reduce harmful cholesterol and indigestion from rich foods and stress. Lotus leaf has long been for weight loss and Pu'er tea is digestive and contains lovastatin which helps regulate cholesterol levels to protect the heart. Ripe (aka "cooked") Pu'er tea is aged for a rich, earthy flavor. 
From the manufacturer: 
Selected Yunnan Pu'er ripe tea, using individual sealed packaging. Quality, rich-tasting Tuo Cha is combined with dried lotus leaf slices and pressed into a Tuo shape. Each tea bud makes one pot of tea. The product is clean, hygienic, easy to brew, and easy to carry. It is very convenient for travel. It is in line with modern, urban, stressed-out people's tea-drinking needs, great for the fast-paced urban life- and work-style.