Dragon's Well Green Tea Bag (100 bags/box)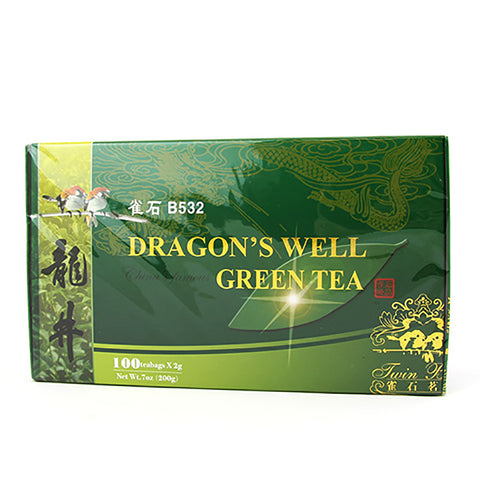 Dragon's Well Green Tea Bag (100 bags/box)
Origin: China
Product Weight: 100 bags/ 200g
Package Type: Tea-Bag
In stock
Description:
品牌Brand:
永合豐 雀石茗茶WHF Twin Birds
产地Origin:
中国  China
品名Name:
龙井绿茶 茶包 Dragon's Well Green Tea Bag
保质期Shelf Life:
18months
分类Sort:
绿茶 Green Tea
等级Level:
二级 Regular
包装 Package:
茶包 Tea Bag
Caffeine Level:
☆☆☆
储存方法
Storage:
常温、阴凉、干燥、可长期保存
Store in airtight, opaque packaging; in a cool, dry place
This Longjing Green Tea is one of China's most famous teas, known for its sweet, complex, and nutty taste. (2g X 100 tea bags)
Longjing literally means "Dragon Well" in Chinese. The name was given according to the legend of a dragon that lived in a well near West Lake village in Zhejiang Province. It saved the village by bringing rain after a long drought. Longjing is distinguished by the unique appearance of its smooth, green flat leaves. It is known for its mellow satisfying flavor, unique nutty taste, and wonderful aroma.
A Short List of Longjing Tea Benefits:
Weight Loss: Its natural chemicals burn body fat 

Stress Relief: ... 

Cancer Prevention: ... 

Improves Heart Health: ... 

Great Coffee Substitute: ... 

Improves Oral Health: ... 

Helps Resist Aging
(fashionlady.in)