Lily Flowder/ Ba Wang Hua (8oz)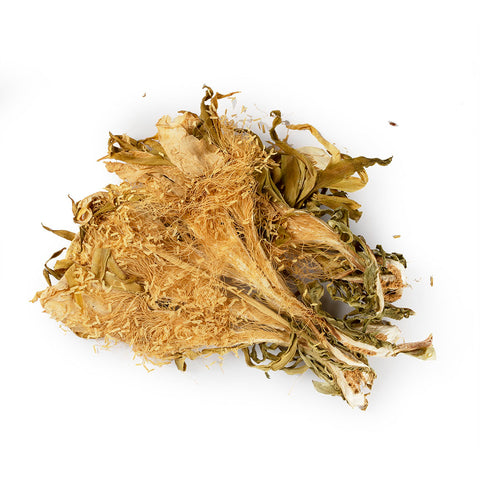 Lily Flowder/ Ba Wang Hua (8oz)
Origin: China
Product Weight: 8 oz
Package Type: Bag
In stock
Description:
霸王花(8oz/包)
为仙人掌科植物量天尺的花。
功效
为仙人掌科植物量天尺的花。用于肺热咳嗽,肺痨,瘰疬,痄腮。
经脉
肺经
霸王花猪肉汤
原料
霸王花50克(1两),猪肉400克(8两),粉肠150克(3两),蜜枣4粒,南北杏2汤匙。
1.粉肠切去肥油,将4粒蜜枣放入粉肠内,在粉肠另一端摧出,洗净出水过冷河。
2.猪肉放落滚水中,煮5分钟取起洗净。
3.霸王花用清水浸软,洗净抹干水,切短度。
4.把适量清水煲滚,放下全部材料猛火煲滚,再用慢火煲3小时,下盐调味。
功效
此汤清凉健肺去痰火,清热气。
Lily Flowder/ Ba Wang Hua  (8 oz)
Sold in dried form, ba wang hua (dried night-blooming cereus) is a flower that is used in traditional Chinese medicine to help with detoxification and reduce lung inflammation. The flowers are usually used in soups. When boiled, they add a sweet and slight thickening effect to soup. 
(tnp.sq)
From the manufacturer: 
This is the flower of the cactus family. The taste is sweet; it is slightly cold in nature. It is used for lung-heat cough, pulmonary tuberculosis, scrofula. It enters the Lung meridian. It is frequently cooked in soups. 
This recipe is used to clear lung inflammation and enhance immunity. https://www.tnp.sg/lifestyle/hed-chef/boost-your-immunity-ba-wang-hua-and-pork-rib-soup
Bawang Flower Pork Soup
1.8 liters of water (for blanching)

2 pork bones (500g), cracked into two

500g spare ribs (cut into 7cm by 8cm pieces)

3.8 liters of water

100g ba wang hua, well-rinsed

10 small red dates (17g)

1 honey date (20g)

4 chilled figs (60g)

20g nan bei xing (Chinese apricot kernels)

1 heaping tsp salt
Bring 1.8 liters of water to a boil in a pot. Blanch the pork bones and spare ribs until there is no visible blood.

Discard the water, rinse the pork bones and spare ribs and set aside.

Bring 3.8 liters of water to a boil in a clean pot. Place the blanched pork bones and spare ribs inside.

Add the ba wang hua, red dates, honey date, figs and nan bei xing.

Cover and bring to a boil. Then simmer covered for 1 1/2 hours.

Season with salt. Stir well and cover for five minutes.

Turn off the heat and serve.