Lian Zi Xin /Lotus Plumule 6oz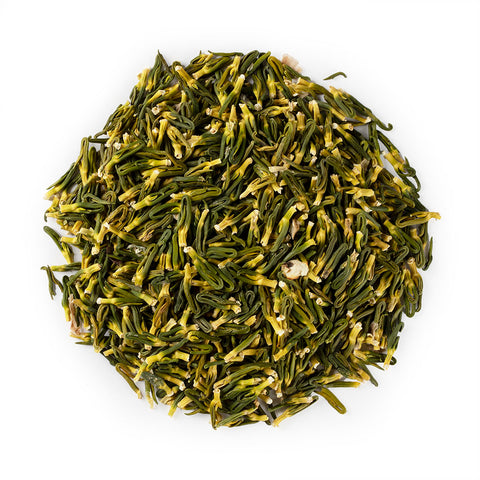 Lian Zi Xin /Lotus Plumule 6oz
Origin: China
Product Weight: 6 oz
Package Type: Bag
In stock
Description:
莲子心(6 oz)
薏、苦薏、莲薏、莲心
莲子心茶,是把成熟莲子种仁内的绿色胚芽用以泡茶饮用,有清心火,止遗精的作用,对心肾不交、降压去脂、阴虚火旺、失眠患者,食之最宜。
性味
苦,寒。
经脉
入心经、肺经、肾经三经。
功用
清心火,安神,去热,止血,涩精,治心烦,口渴,吐血,遗精,目赤肿痛。
Lian Zi Xin /Lotus Plumule (6 OZ.BAG)
Lotus is such a treasure that every part of it, the lotus leaves, lotus root, lotus flower, and lotus seed, has really high medicinal and nutritional value. 
Lotus plumule, also known as Lian Zi Xin or Plumula Nelumbinis, is a Chinese herb with lots of health benefits. It is so bitter that it is made into tea. So it is often used as a routine drinking tea for decreasing "internal heat" symptoms such as hypertension, menopausal hot flashes, and chronic fever conditions. Besides tea, this herb is also a strong medicine, which is an essential ingredient in Chuan Xin Lian Pian (Andrographis Paniculata Tablet), a common medicine in most Chinese home medicine cabinet checklist for a variety of ailments like sore throat, colds, and upper respiratory infections.
Lotus plumule is the green spire and radicle in the middle of the mature seeds of Lotus Nelumbo nucifera Gaertn., which is a plant in the family Nymphaeaceae. Medicinally it looks like a thin rod, with a green spire, one long and one short, and a tiny embryo between two tiny leaves. It is brittle, easily broken, and with several holes on the cross-section. And it has a slight odor and bitter taste.