Incised Notopterygium/ Qiang Huo 16oz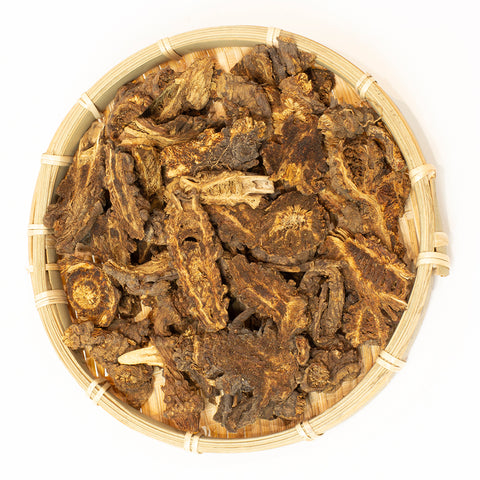 Incised Notopterygium/ Qiang Huo 16oz
Origin: China
Product Weight: 16oz
Package Type: Bag
In stock
Description:
羌活 16oz
Incised Notopterygium
羌青 护羌使者 胡王使者 羌滑 退风使者 黑药 川羌 西羌活 大头羌 竹节羌 蚕羌
性味
辛苦,温。
功效
为伞形科植物羌活或宽叶羌活的根茎和根。 用于阳痿遗精,遗尿尿频,腰膝冷痛,肾虚作喘,五更泄泻;外用治白癜风,斑秃。解表散寒,祛风胜湿,止痛。
经脉
归膀胱经;肾经
主治
散表寒,祛风湿,利关节。治感冒风寒,头痛无汗,风寒湿痹,项强筋急,骨节酸疼,风水浮肿,痈疽疮毒。用于阳痿遗精,遗尿尿频,腰膝冷痛,肾虚作喘,五更泄泻;外用治白癜风,斑秃。
用法用量
内服:煎汤,3~10g;或入丸、散。
注意禁忌
血虚痹痛忌服。
Incised Notopterygium/ Qiang Huo 16oz
Qiang Huo is a traditional Chinese medicinal herb to release the exterior [move qi toward the skin surface to increase sweating or bring out rash], disperse cold, rid wind-damp and ease pain. Qiang Huo benefits winter discomforts, supports joints and may ease upper extremity pain and body aches. Qiang Huo contains analgesic, and anti-inflammatory effects. (1stchineseherbs.com)

It is used to disperse cold, unblock painful obstructions caused by wind/damp/​cold pain, and serves as a guiding herb to the governing vessel and greater yang​ . (acupuncturetoday.com) [It reduces stiffness, chills, and pain aggravated by cold damp weather and cold, raw diet choices.]
Dosage Oral administration: decoction, 3~10g; or into pills or powder. Caution: Avoid use with blood deficiency arthralgia.