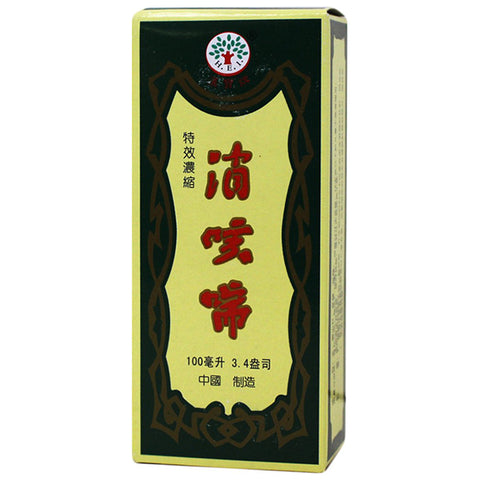 HEI Hsiao Keh Chuan
Origin: China
Product Weight: 100 ml
Package Type: Box
In stock
Description:
漢寶牌 消咳喘
Special Medicine for Bronchitis.

性状
本品为红褐色的液体;气香,味甜、辛、苦。
主要功效
止咳,祛痰,平喘。
适用病症
用于寒痰咳嗽;慢性支气管炎。
用法用量
口服,一次10ml,一日3 次,小儿酌减。
药性分析
方中满山红为杜鹃花科植物兴安杜鹃的叶,具有止咳,祛痰,治慢性支气管炎,咳嗽等功效。
注意事项
1.本品含有20%~28%的乙醇,过敏体质的患者慎用。
2.本品有少许沉淀,服时振摇。
3.运动员慎用。
HEI Hsiao Keh Chuan
Special Medicine for Bronchitis. 
Good for coughs, asthma, and dissipating spulum due to a cold or flu. Helps reduce and calm ashtma. Net wt: 100ml Oral Liquid.  
Ingredients: Water, Cane Sugar, Extract of Rhododendron (black ginseng), Alcohol. 
This product is a reddish brown liquid; it has a sweet, pungent and bitter taste. 
Main effects: It relieves cough, is an expectorant and relieves asthma. It is used for cold phlegm and cough [with no fever or yellow phlegm]; chronic bronchitis. 
Dosage Oral: 10ml each time, 3 times a day, reduce it for children. Drug analysis Fangzhongmanshanhong is the leaf of Rhododendron azalea, a plant of the rhododendron family, which has the effects of relieving cough, expectorating, curing chronic bronchitis and coughing. 
Precautions: 
This product contains 20% to 28% alcohol. Patients with allergies should use it with caution. 

This product has a little precipitation, shake it when taking it. 

Athletes use it with caution.