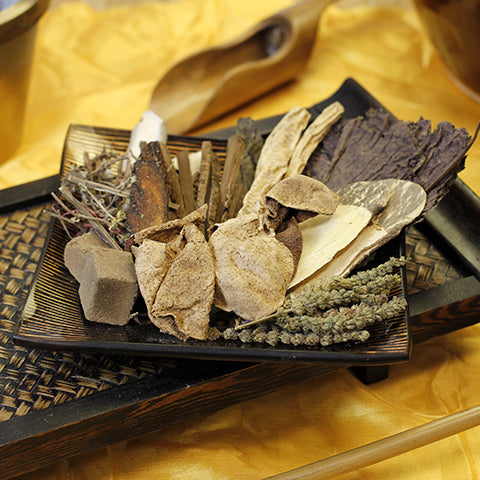 Herbal Flu Tea 4oz
Origin:
Product Weight:
Package Type:
In stock
Description:
抗流感茶(4oz/包)
Flu Fighter Tea / Herbal Flu Tea (4oz/Bag)
材料 :荊界、川芎、紫蘇葉、防風、北茋、廣皮、薄荷、茯苓、灸草、川樸、黨蔘
功效:固本, 用以预防流感及防止轻症流感的转变。
用法:煎服,五碗水煎成一碗后内服。
溫馨提示:請先向醫師咨詢是否合適服用此茶
Flu Fighter Tea 
Herbal Flu Tea 抗流感茶
Effect:
Improves lung health, reduces cough and tones immunity vs. flu
Ingredients : 
Fineleaf schizonepeta herb, ligusticum root, Perilla Leaf, Divaricate Saposhniovia Root, Astragalus root slices, Tangerine peel, Mint, Poria, fuling, licorice root, Glycyrrhizae preparata, Magnoliae bark, Codonopsis root
Directions:
Flu Fighter Tea 固本扶肺止咳、抗流感: strengthens and frees breathing and enhances immunity. The traditional method of cooking this recipe is to make a strong medicine, a water extract: 五碗水煎至一碗 Boiled five bowls of water to one. 
The amount of water is a key point because it can directly affect the efficacy of traditional Chinese medicine, so if cooking the herbal soup according to the guidelines, the best results will be achieved.
Suggestions:
we suggest starting its use as a light beverage tea by simmering the herbs in water for up to 15 minutes. Inhale the steam. The mint leaves will be refreshing. Drink it warm or cool between meals. The second cooking should be longer in order to release the benefits of the roots. Simmer with water for up to two hours. The tea can be kept in the refrigerator for up to three days. Drink it between meals for the best benefits. 

Please consult your physician before using this product.