FRUCTUS ANISI STELLATI / Ba Jiao Hui Xiang 4oz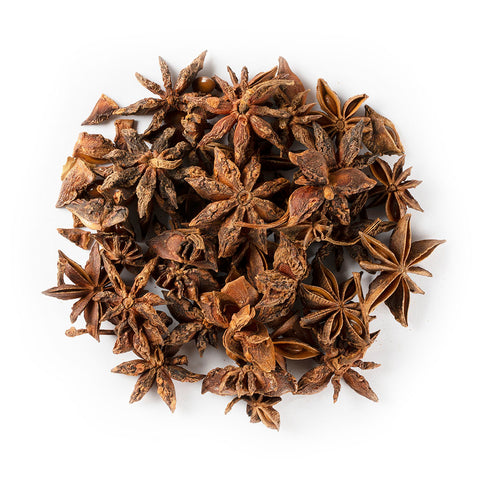 FRUCTUS ANISI STELLATI / Ba Jiao Hui Xiang 4oz
Origin: China
Product Weight: 4 oz
Package Type: Bag
In stock
Description:
精選 八角 大茴香(4oz/包)
 【性味与归经】
辛,温。归肝、肾、脾、胃经。
【功能与主治】
温阳散寒,理气止痛。用于寒疝腹痛,肾虚腰痛,胃寒呕吐,脘腹冷痛。
FRUCTUS ANISI STELLATI / Ba Jiao Hui Xiang(4 oz/Bag)
Along with its unique delicious flavors, star anise has long been used as a medicinal remedy for the common flu, bacterial infections, as a mosquito repellent along with improving digestion and sleep quality.
Star Anise Benefits include:
Antioxidant Benefits.

Insect Repellant.

Fights Viruses and Flu.

Digestive Aid and Protection.

Stops Growth of Bacteria and Fungi.

May Reduce Respiratory Congestion.

Improves Lactation.

Eases Menopause Symptoms.
https://dupischai.com/star-anise-health-benefits/
From the manufacturer: 
The taste is spicy and sweet. It enters the Liver, Kidney, Spleen, and Stomach meridians. Functions and Indications: It is warming for yang meridians and organs to dispel cold, regulating qi to relieve pain. It has been used for cold colic, abdominal pain, kidney deficiency, low back pain, stomach cold and vomiting, cold pain in the abdomen [spasm pain that makes you double over to warm the abdomen].