Strong Bones and Muscles /Feng Shi Gu Tong Tea (4oz)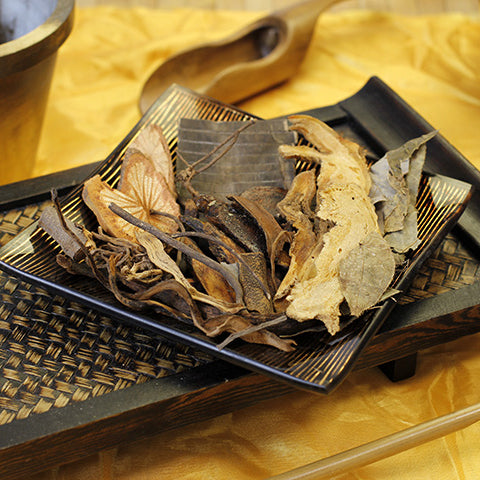 Strong Bones and Muscles /Feng Shi Gu Tong Tea (4oz)
Origin:
Product Weight:
Package Type:
In stock
Description:
風濕骨痛茶 (Feng Shi Gu Tong Herbal Tea):
Strong Bones and Muscles
成分:骨碎补﹐鸡血藤﹐淫羊﹐威灵仙﹐延胡索﹐杜仲﹐桑寄生﹐川木瓜﹐独活﹐甘草。
功效:补肝肾、强筋骨、止痺痛、舒筋活络。
用法:六碗水煎至一碗。
Strong Bones and Muscles 
風濕骨痛茶 (Feng Shi Gu Tong Herbal Tea)
Effect:
warming liver and kidney tonic, strengthens muscles and bones
There are Chinese herbs that are used to help prevent osteoporosis, weak, strained muscles, aching back and legs, low energy, and related depression. This is a boon for aging, tired, overworked people, others who have damaged their Qi with medicines like steroids or smoking, people who tend to have bone fractures and chronic pain or falling injuries related to Qi weakness. This is a warming tonic, not to be used with fever, colds/flu or chronic inflammation illnesses. If you are pregnant or currently taking medication, check with your health specialist before using herbal remedies. 
Most of the herbs in Strong Bones and Muscles are warming tonics. The blood-enhancing herbs Angelica sinensis (dong quai) is also slightly warming and used to stimulate blood circulation. Epimedium (yin yang huo, lusty goat weed) stimulates "kidney yang" with symptoms of chronic fatigue, sore aching lower back and legs, sexual weakness and low libido; it is a precursor to testosterone. This warming, energizing formula may be a comfort during winter or cold inclement weather. Winter months tend to increase calcium loss in long bones and increase bone pain due to lack of sunshine. Strong Bones and Muscles may be used by men or women who have no fever, hot flashes, active cancer or inflammatory symptoms. Persons taking medical drugs should check with their doctor or herbal specialist. The formula may prove to be especially useful for aging and debility and recovery from surgery or for chronic debilitating illness with resulting aches. 
Ingredients:
Drynariae Rhizoma, Spatholobus Stem, Epimedium Herb, Clematis Root, Corydalis Rhizoma, Eucommia Bark, Herba Taxilli, Flowering quince fruit, Radix Angelica sinensis, Licorice root
Directions:
Add six bowls of water. Boil six bowls of water into one bowl, then filter and take the soup. 
The amount of water is a key point because it can directly affect the efficacy of traditional Chinese medicine, so if cooking the herbal soup according to the guidelines, the best results will be achieved.
Suggestions:
For long term muscle or bone weakness, osteopenia and osteoporosis or for injuries a stronger decoction is recommended. The traditional method of cooking is "六碗水煎至一碗: Boil six bowls of water to one" which makes a concentrated somewhat bitter brew. For people unused to Chinese herbs, it may be better to cook it twice, first for 20 minutes and after getting used to the taste, cook it again for one to two hours. It keeps in the refrigerator for up to 5 days and can be frozen. Start with one cup to become accustomed to the taste and effects. Slowly increase the dose as needed to no more than 3 cups per day. If irritability or insomnia result, reduce the dosage.

You might also add the Strong Bones and Muscles ingredients to slow cook in a crockpot when making bone broth. Add left over bones from chicken, beef or pork, celery, carrot, parsley, oregano and onion to slow cook for the broth. Add the formula either as dried herbs or the decoction while cooking at low heat for 8-10 hours. Bone broth and the combination of these herbs take the healing qualities of the herbs directly to bones and muscles.


Please consult your physician before using this product.