Japanese Dried Oyster 16oz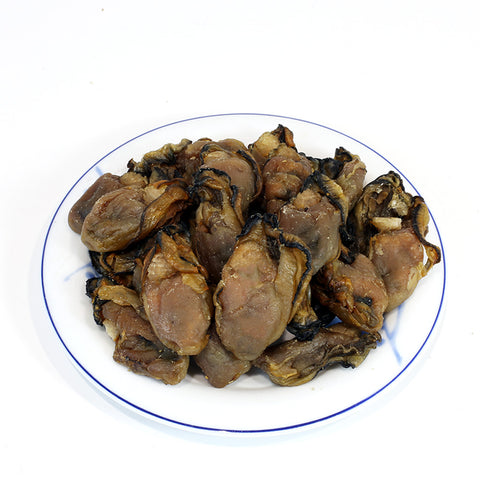 Japanese Dried Oyster 16oz
Origin: Japan
Product Weight:
Package Type:
In stock
Description:
日本 蠔豉 蚝豉 牡蛎干 16oz
需要保持冷藏 
蚝豉,也称"蛎干",一种海味,牡蛎(也称蚝)肉的干制品。是广东人民春节必食的菜肴。
春节是吃蚝好时机,蚝肉肥美,富含蛋白质,但忌豪吃,每天最好只吃一餐蚝肉,蚝豉的烹饪要注意食物的配伍原则。
购买蚝豉要注意几个原则:第一,看产地,一般认为日本产的最佳;湛江、潮汕等地的居次;珠海、深圳的也不错,但广州产的就不值得恭维。第二,手捏蚝豉的感觉要干和饱满,这意味着蚝肉新鲜、肉质丰富。第三,闻起来要有蚝香味。第四,观察颜色,金黄色蚝豉才是上品。
买好食材后,如果不是立即食用,就要注意保管问题,最好冷藏,并且一个月内吃掉,否则一旦空气侵蚀了蚝干,不仅流失了美味,而且对身体也不好。
Japanese Dried Oyster
 

KEEP REFRIGERATED

Dried oysters are famous for regulating body organs and supplementing weak functions, nourishing the Yin and the blood, invigorating the kidneys and strengthens male functions. Rich in proteins and various nutrients, and is a precious food for improving skin and beauty. (hkjebn.com)

Oysters are extremely rich in zinc, which is essential for testosterone production and maintenance of healthy sperm. And even though women have much less testosterone than men, it also plays a key part in the female libido. Oysters also boost dopamine, a hormone that increases libido in both men and women. (cbsnews.com)

Dried oysters, or ho see, are small, glossy and slightly shriveled, with a chewy texture and intense, salty-sweet flavour that is vastly different from the briny, light, refreshing taste of fresh bivalves. The flavour can be overwhelming, so the oysters should be used in small quantities. . . 

Dried oysters need to be rinsed and soaked in warm water. The soaking liquid has a lot of flavour and can be included in the dish in place of broth or plain water. If the oysters are to be used whole in a stir-fry, steam them to soften further. (scmp.com)

Here is a healthy recipe useful for breakfast or for recovery from illness or fatigue: Rice congee with dried scallops and dried oysters




Seafood Rice Congee

Ingredients: 
1 cup medium-grain rice soaked for 30 minutes 

12 cups filtered water 

1 teaspoon extra virgin olive oil

1 carrot, diced 

6 dried oysters, pre-soaked 

4  dried scallops, pre-soaked 

2 scallions (aka spring onions), chopped 
Soak dried oysters and scallops in cold water separately for at least 2 hours to soften them. Retain the soaking liquid. Shred the scallops, and cut oysters into small pieces.
Peel carrot and dice into small cubes.
Wash and rinse the rice several times. Place rice in a pot, add water and seafood liquid (used to soak the dried seafood), and bring to a boil.
Add oysters, carrots, and 1 tsp oil.
Let the congee boil, then lower heat to let it bubble for 20 minutes.
Add the shredded scallops, and let congee simmer for 20-30 minutes. Do stir occasionally to prevent the rice from sticking to the bottom of the pot.
Turn heat off, and serve garnished with sliced spring onion.
From the manufacturer:  

Oyster sauce, also called "dried oyster" is dried seafood, (also called oyster meat.) It is a must-eat dish for the people of Guangdong during the Spring Festival [Chinese New Year]. The Spring Festival is a good time to eat oysters. Oyster meat is plump and rich in protein, but avoid excessive consumption. It is best to eat only one meal a day. When cooking oyster, pay attention to the principle of food compatibility. There are a few principles to pay attention to when buying oysters: 
First, look at the place of production. Generally speaking, the best are produced in Japan; after that Zhanjiang, Chaoshan and other places are second; Zhuhai and Shenzhen are also good, but Guangzhou produced is not worthy of compliment. 
Second, the oyster sauce should feel dry and full by hand, which means that the oyster meat is fresh and rich. 
Third, it should smell of oysters [fresh, mild, and tasty]. 
Fourth, observe the color, golden oyster sauce is the top grade. After buying the ingredients, if you don't eat them immediately, you must pay attention to storage. It is best to refrigerate and eat them within one month, otherwise once the air erodes the dried oysters, it will not only lose the deliciousness but also be bad for the body.