Lobed Kudzuvine Root/ Dried Ge Gen Pian 12oz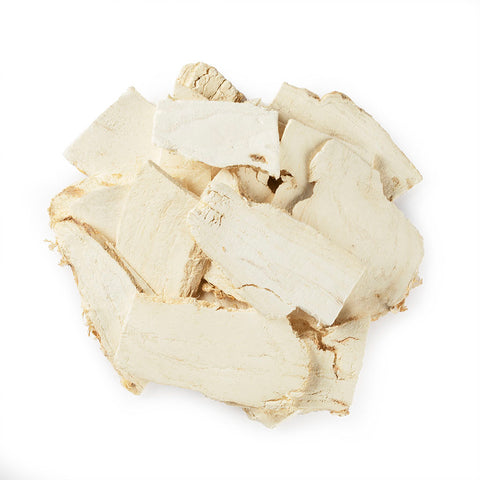 Lobed Kudzuvine Root/ Dried Ge Gen Pian 12oz
Origin: China
Product Weight: 12 oz
Package Type: Bag
In stock
Description:
干葛片/葛根(12 oz/包)
干葛 甘葛 粉葛 葛麻茹 葛子根 葛条根 鸡齐根 葛 粉葛根 煨葛根
性味
甘;辛;平
经脉
脾经;胃经;肺经;膀胱经
主治
升阳解肌,透疹止泻,除烦止温。治伤寒、温热头痛项强,烦热消渴,泄泻,痢疾,癍疹不透,高血压,心绞痛,耳聋。
用法用量
内服:煎汤,10~15g;或捣汁。
外用:适量,捣敷。
注意禁忌
1.张元素:不可多服,恐损胃气。
2.《本草正》:其性凉,易于动呕,胃寒者所当慎用。
3.《本草从新》:夏日表虚汗多尤忌。
食疗方
葛粉羹
葛粉250克,荆芥穗30克,淡豆豉150克。将葛粉做成面条,荆芥穗、淡豆豉水煮6~7沸去滓取汁,煮葛粉面条至熟。早晚各食1次。
功效:滋养肝肾,熄风开窍。主治适用于肝肾阴亏之中风,言语蹇涩,神志昏愦,半身不遂,中老年人脑动脉硬休等。亦可作预防中风之用。
 https://zhongyibaike.com/
Lobed Kudzuvine Root/ Dried Ge Gen Pian(12oz/Bag)
Kudzu's roots, flowers, and leaves are used to make medicine. It has been used in Chinese medicine since at least 200 BC. As early as 600 AD, it was used to treat alcoholism. Today, kudzu is used to treat alcoholism and to reduce symptoms of alcohol hangover, including headache, upset stomach, dizziness, and vomiting (rxlist.com)
Liver disease: There is some concern that taking kudzu might harm the liver. In theory, kudzu might make liver diseases, such as hepatitis, worse. People with liver disease or a history of liver disease should avoid kudzu.
There is information that suggests kudzu contains ingredients that counteract alcohol. It might also have effects like estrogen. Chemicals in kudzu might also increase blood circulation in the heart and brain. . . [A chemical in kuzu may be helpful for menopause, heart disease, and weight loss] https://www.webmd.com/vitamins/ai/ingredientmono-750/kudzu
Dosage: Oral administration: decoction, 10~15g; or mashed juice. External use: appropriate amount, pound and apply.

Diet Therapy  
 Kudzuvine Root Powder Soup  
Ingredients:
250 grams of Kudzuvive powder, 30 grams of nepeta [catmint leaf], and 150 grams of light tempeh. Make kudzu noodles, boil the nepeta ears, and light tempeh in water for 6~7 minutes to boil to remove the juice, and cook the kudzu noodles until cooked. Eat 1 time each morning and evening.  
Efficacy: nourishes the liver and kidney, reduces wind [nerve pain], and resuscitates. Indications are suitable for liver and kidney yin deficiency, stroke, astringent speech [aphasia], dizziness, hemiplegia, and cerebral arteries in the elderly. It can also be used to prevent stroke.