Dried Fish Maw #523(14-18 pcs/Lb)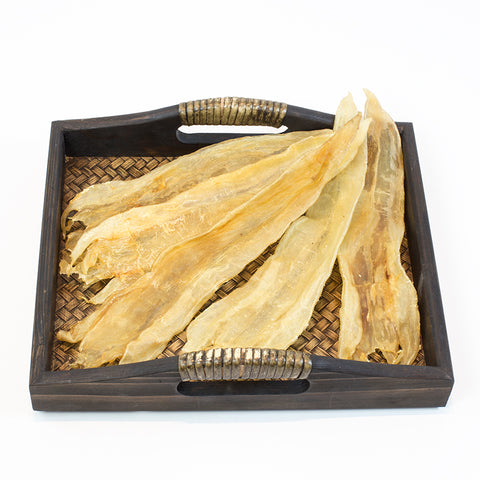 Dried Fish Maw #523(14-18 pcs/Lb)
Origin: Brazil
Product Weight: 16 oz
Package Type:
In stock
Description:
精選 南美扎膠公肚 花膠 花胶筒#523(14-18头/磅) 
花胶的主要成分为高级胶原蛋白、多种维生素及钙、锌、铁、硒等多种微量元素。其蛋白质含量高达84.2%,脂肪仅为0.2%,是理想的高蛋白低脂肪食品。
从中医角度,花胶极有滋补食疗作用,《本草纲目》记载:花胶能补肾益精,滋养筋脉,能治疗肾虚滑精及产后(产后食品)风痉。花胶含丰富的蛋白质及胶质,具滋阴养颜,补肾,强壮机能。腰膝酸软,身体虚弱,最适宜经常食用。
Dried Fish Maw #523(14-18 pcs/Lb)
The main components of fish maw are high-grade collagen, a variety of vitamins, calcium, zinc, iron, selenium and other trace elements. The protein content is as high as 84.2%, and the fat is only 0.2%. It is an ideal high-protein and low-fat food. Male fish maw is considered the most superior kind.  
From the perspective of traditional Chinese medicine, fish maw has a nourishing and therapeutic effect. "Compendium of Materia Medica" records: "fish maw can nourish the kidney and essence, nourish the muscles and veins, and can treat kidney deficiency and smooth essence and postpartum (postpartum food) wind cramps." That means it supports energy, immunity, hormone balance, rejuvenation and helps reduce nerve pains. 
Fish maw is rich in protein nourishes yin (internal organs and body fluids,) skin, nourishes the kidney, and supports healthy metabolism and yin/yang balance. It is very useful when the waist and knees are sore and weak, the body is weak, and it is most suitable for regular consumption by any age.  
Fish maw is a delicacy served during special occasions like Chinese New Year. However its nutrition is valuable year round: Rich in collagen, fish maw is a Chinese beauty secret for youthful skin. Fish maw contains rich proteins and nutrients such as phosphor and calcium. It nourishes 'yin' which means it replenishes the tissue, moisture and fluids of lung, stomach, liver and kidney. It boosts stamina and helps prevent burnout.  Furthermore, fish maw does not contain cholesterol and therefore it is a very valuable health enhancing ingredient suitable for long time consumption.
Fish maw is the dried form of fresh, high quality air bladders of fish, which are rich in gelatin. The air bladders are taken from large fishes and is graded according to sex: male bladders are considered better than female ones. Among them, there are shark's tripe, Pollock maw and premium fish maw. Fish maw (aka swim bladder, gas bladder, or air bladder) is an internal gas-filled organ that contributes to the ability of many bony fish (but not cartilaginous fish) to float, i.e., control their buoyancy, and thus to stay at their current water depth without having to waste energy in swimming.
It is usually served braised, stewed or in soup. Fish maw comes dried in a non-fried or fried form. The non-fried form is hard and dry, whereas the fried form is all white, puffy and very light. The non-fried Fish maw needs to be soaked then boiled with ginger until they are soft. Here is a simple recipe for two.
Fish Maw Soup
Ingredients: 
2 chicken thighs
1 clove of garlic
cooking oil
1 tablespoon raw ginger
1 cup dried fish maw pieces
chicken soup stock or low sodium bouillon 
1 package Sweet Soup/Qing Bu Liang Soup
Rinse the fish maw in cold water. If it is hard, soak it for 30 minutes.
Brown the chicken in oil and set it aside, brown sliced garlic and ginger in the oil until they become fragrant. Add back the chicken. Add the dry Sweet Soup ingredients. Cover the ingredients with chicken stock and simmer for 30 minutes or until the dry ingredients are soft. Add the fish maw and simmer for another fifteen minutes or until the fish maw is spongy soft and tender not dissolved. Season with soy sauce and garnish with chopped scallions.