Dampness Soup Package 6Oz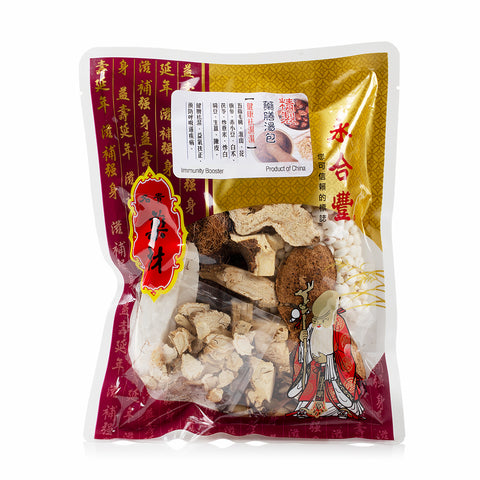 Dampness Soup Package 6Oz
Origin:
Product Weight: 7oz
Package Type: Bag
In stock
Description:
健康祛湿汤煲
成分: 五指毛桃, 淮山, 花旗参, 赤小豆, 白术, 茯苓, 炒薏米, 炒白扁豆, 生姜, 陈皮.

做法: 先将药材浸泡20分钟, 瘦肉滚水煮去上沫, 放入药材煲内, 加至8碗水, 大火煲滚, 转细火, 煲60至90分钟, 分为3碗.

功效: 健脾祛湿, 益气扶正, 预防呼吸道疾病.

用法: 每日一碗, 可供一家3人服, 每周1~2次, 可与其他汤水交替服用.
Dampness Soup Package 6Oz
Ingredients: Five-finger Fig Root, Dioscorea opposita, American Ginseng, Vigna umbellata, Atractylodes, Poria, Fried Barley, Fried White Lentil, Ginger, Orange Peel.

Method: Soak the herbs for 20 minutes, boil the lean meat to remove foam, put it into the herb pot, add to 8 bowls of water, bring to a boil over high heat, turn to low heat, boil for 60 to 90 minutes, and divide into 3 bowls.

Efficacy: invigorating the spleen and removing dampness, invigorating Qi and strengthening the body, preventing respiratory diseases.

Usage: One bowl a day, can be taken by a family of 3, 1~2 times a week, can be taken alternately with other soups.