Spina Date Seed/ Suan Zao Ren 16oz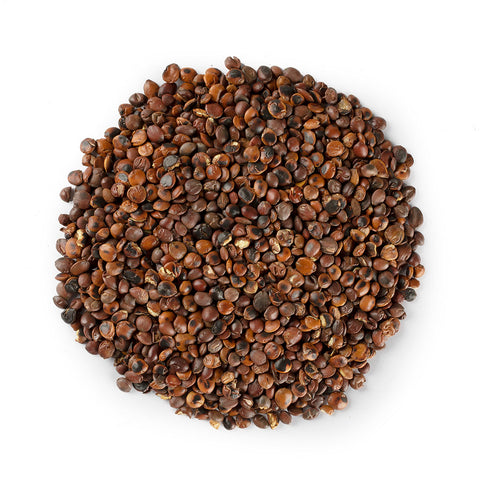 Spina Date Seed/ Suan Zao Ren 16oz
Origin: China
Product Weight: 16 oz
Package Type: Bag
In stock
Description:
酸枣仁 16oz
spina date seed
山枣仁、山酸枣
性味
甘;平
功效
本品为鼠李科植物酸枣的干燥成熟种子。 养肝,宁心,安神,敛汗。治虚烦不眠,惊悸怔忡,烦渴,虚汗。
经脉
心经;脾经;肝经;胆经
用法用量
内服:煎汤,6~15g;研末,每次3~5g;或入丸、散。
注意禁忌
凡有实邪郁火及患有滑泄症者慎服。
①《本草经集注》:恶防己。
②《本草经疏》:凡肝、胆、脾三经有实邪热者勿用,以其收敛故也。
③《得配本草》:肝旺烦躁,肝强不眠,禁用。
④《本草求真》:性多润,滑泄最忌。
【食疗方】
1.养心三丝汤
酸枣仁10克,花旗参10克,鸡蛋3个,火腿、香菇、食盐、黄酒、葱、姜汁、味精、麻油适量。取酸枣仁和
花旗参
煎煮取汁;将鸡蛋煮熟去壳及蛋黄,将鸡蛋白切成丝,水发香菇与火腿均切成细丝;锅中清水煮沸后先倒入火腿及香菇丝煮10分钟,再倒入蛋白丝和药液及调料煮熟勾芡,淋麻油即可。早晚空腹食用。
功效:宁心安神,益气健脾。主治体虚乏力、食少纳差、失眠多梦者。
2.枣仁粥
将酸枣仁炒熟,放入铝锅内,加水适量,煎熬,取其药液备用番米洗净,放入锅内,倒入药液煎煮,待米熟烂时即成。日服3次。每次1小碗。
功效:养阴,补心,安神。主治适用于心脾两虚之心烦、不眠等症。
3.酸枣仁饮
炒酸枣仁15克,蜂蜜10~20克。将酸枣仁研为细末,蜂蜜加温开水半杯搅匀,然后送服。每日1次,连服7~10天。 功效 补血安神。
4.远志枣仁粥
远志肉10g,炒枣10g,粳米50g。将粳米放入锅内,加水适量,煮粥,开锅后即放入远志、枣仁,煮熟即可。晚间睡前作为夜宵食之。
功效:宁心安神。主治心血不足,痰扰于神而引起的惊悸健忘、不寐多梦等症。
5.龙眼酸枣仁饮
龙眼肉10克,炒枣仁10克,芡实12克。炒枣仁捣碎,用纱布袋装。芡实加水500毫升,煮半小时后,加入龙眼肉和炒枣仁,再煮半小时。取出枣仁,加适量白糖,滤出汁液。不拘时饮,并吃龙眼肉及芡实。
功效:养血安神,益肾固精。主治凡因心阴血虚、虚火内扰不能下济肾阴,出现心悸、怔忡、失眠、健忘、神倦、遗精等症者,皆可服用。
This product is the dried mature seeds of Rhamnus jujube date. It nourishes the liver, calms the heart, calms the nerves, and controls sweat. Treats sleeplessness, palpitations, polydipsia, and excess sweating.
Sweet, Sour, (Acrid) taste, neutral in temperature
It enters the Gallbladder, Heart, Liver, and Spleen meridians
        Actions:                                                              Indications


| | |
| --- | --- |
| Nourishes Heart Yin, tonifies Liver Blood and calms the Spirit | Liver Blood Deficiency or Heart Yin Deficiency with Deficiency Fire Rising with irritability, insomnia and palpitations with anxiety |
| Astringes sweat and generate fluids  | Abnormal sweating, either spontaneous sweating or night sweats  |
CONTRAINDICATIONS
Use caution in cases of severe diarrhea.

Use caution in cases of Heat from Excess [fevers, infections]. 

Use caution in cases of insomnia due to Excess Heat or Hot Phlegm.

Use caution for those with an Exterior condition [colds/flu]

Use caution during pregnancy. 
Diet Therapy
Date porridge 
Stir-fry the jujube kernels, put them in a pot, add an appropriate amount of water, simmer, keep the medicinal solution. Wash the rice, put it into the pot, pour the medicinal solution on the rice, cook, and serve when the rice is cooked. 
Take a small bowl 3 times a day. 
Efficacy: nourishes yin, nourishes the heart, calms the nerves. 
Indications are suitable for upset and insomnia with deficiency of the heart and spleen. 
Jujube Seed Drink 
Ingredients: 15 grams of jujube kernels and 10-20 grams of honey. 
Rinse wild jujube seeds and grind them into a fine powder, stir in half a cup of warm boiled water with honey, and then serve. 
Take it once a day for 7-10 days. 
Efficacy Nourishes blood and calms the nerves.