Siberian Cocklour Fruit / Cang Er Zi 16oz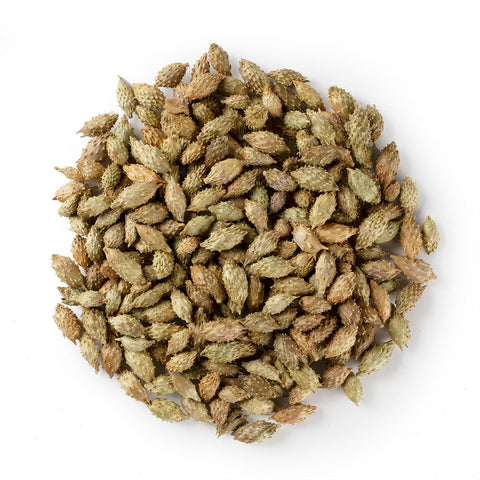 Siberian Cocklour Fruit / Cang Er Zi 16oz
Origin: China
Product Weight: 16 oz
Package Type: Bag
In stock
Description:
苍耳子 16oz
Siberian Cocklour Fruit, Fruit of Siberian Cocklebur
葈耳实、牛虱子、胡寝子、苍郎种、棉螳螂、苍子、胡苍子、饿虱子、苍棵子、苍耳蒺藜、苍浪子、老苍子
性味
味苦;甘;辛;性温;小毒
功效
苍耳子为菊科植物苍耳的成熟带总苞的果实。 散风,止痛,祛湿,杀虫。治风寒头痛,鼻渊,齿痛,风寒湿痹,四肢挛痛,疥癞,瘙痒。
经脉
归肺经;肝经
用法用量

内服:煎汤,3~10g;或入丸、散。
外用:适量,捣敷;或煎水洗。
注意禁忌
1.血虚之头痛、痹痛忌服。
2.《唐本草》:忌猪肉、马肉、米泔。
3.《本草从新》:散气耗血,虚人勿服。
【食疗方】
薄荷苍夷白芷茶
薄荷6克,苍耳子12克,辛夷6克,白芷6克,葱白3根,茶叶2克。上述诸药共入锅中,水煎去渣取汁即成。代茶饮用。
功效 疏风通窍。主治鼻炎、鼻窦炎等病症。
Siberian Cocklour Fruit, Xanthium sibiricum, Cang Er Zi
Property
Pungent, bitter and warm, toxic; lung meridian entered.
Actions
Disperse wind-cold, relieves nasal obstruction, and stop pain.
Indications
Wind-cold exterior syndrome
It has a minor function to expel wind-cold therefore it is not commonly used for common cold due to wind-cold. But because of the action to relieve nasal obstruction and stop pain, it is often used for wind-cold syndrome manifested as headache and body pain, nasal stuffiness with discharge together with Qiang Huo, Bai Zhi and other herbs to disperse wind-cold.
Nasal Stuffiness and discharge
It has a good effect on free nasal obstruction and relieves nasal stuffiness. It can also stop turbid nasal discharge, stop pain and relieve distention pain of forehead and nasal cavity with its warm and dry property. It can be applied either internally or externally with multiple effects for both symptoms and pathological changes such as nasal stuffiness, continuous turbid nasal discharge, loss of sense of smell and forehead pain. It has been regarded as an important medicine for treating nasal stuffiness since ancient times.
The disease sinusitis is often caused by exterior wind-heat attack or damp-heat stagnation. For this disease, Cang Er Zi is often used with wind-heat-dispersing herbs such as Bo He, Ju Hua, Huang Qin or with heat-clearing herbs. It's also frequently used for other rhinopathy such as acute rhinitis, chronic rhinitis and allergic rhinitis.
In addition, it can dispel wind-damp and stop pain of arthralgia to assist other wind-damp-dispersing herbs. It's commonly used for wind-cold-damp arthralgia. It can also be used to treat pruritus and headache due to wind cold.
Dosage and Administrations
Decoct 3~10g or make it into pills and powder. It should be roasted and ground to get thorns for better prescription and decoction of the active components and less toxin.
Cautions
Not suitable for headaches due to blood deficiency.
Overdose will lead to toxication.