South American Dried Fish Maw #467 (14-15 pcs/Lb)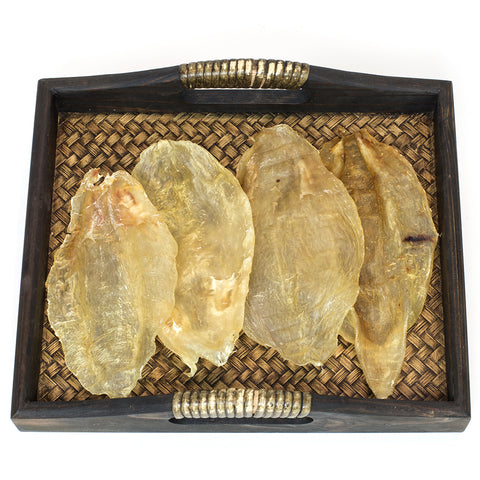 South American Dried Fish Maw #467 (14-15 pcs/Lb)
Origin: South America
Product Weight:
Package Type:
In stock
Description:
南美深海 黄花鱼肚 花膠#467 (14-15頭/磅) 
花胶的主要成分为高级胶原蛋白、多种维生素及钙、锌、铁、硒等多种微量元素。其蛋白质含量高达84.2%,脂肪仅为0.2%,是理想的高蛋白低脂肪食品。
从中医角度,花胶极有滋补食疗作用,《本草纲目》记载:花胶能补肾益精,滋养筋脉,能治疗肾虚滑精及产后(产后食品)风痉。花胶含丰富的蛋白质及胶质,具滋阴养颜,补肾,强壮机能。腰膝酸软,身体虚弱,最适宜经常食用。
South American Dried Fish Maw #467 (14-15 pcs/Lb)
Refresh complexion, support joints, and rejuvenate organs
Fish maw is rich in protein, collagen, phosphorus, and calcium. It is regarded as a treasure for women that nourishes the entire body. It is a precious food that is moisturizing and rejuvenating. Fish maw is sweet, mild, and rejuvenating for the kidney and liver and their meridians. It invigorates the kidney and is nourishing for muscles and veins. It reduces excess bleeding, regulates circulation to remove blood stasis, and reduces swelling.
Fish maw is a delicacy served during special occasions like Chinese New Year. However its nutrition is valuable year-round: Rich in collagen, fish maw is a Chinese beauty secret for youthful skin. Fish maw replenishes the tissue, moisture, and fluids of lung, stomach, liver, and kidney. It boosts stamina and helps prevent burnout.  Furthermore, fish maw does not contain cholesterol and therefore it is a very valuable health-enhancing ingredient suitable for long time consumption.
Fish maw is the dried form of fresh, high-quality air bladders of fish, which are rich in gelatin.
Soak and Cook Fish Maw
Boil the dried fish maw with slices of gingers and shallots to remove the fishy smell. Rinse. Simmer the Fish Maw for 30 seconds then let it cool with the lid on until it is softened, about 8-9 hours or overnight. Finally, rinse the puffed Fish Maw again and it is ready to cook. Cut it into pieces and cook it until tender in soup or stir-fry.