South American Dried Fish Maw(65-70pcs/Lb)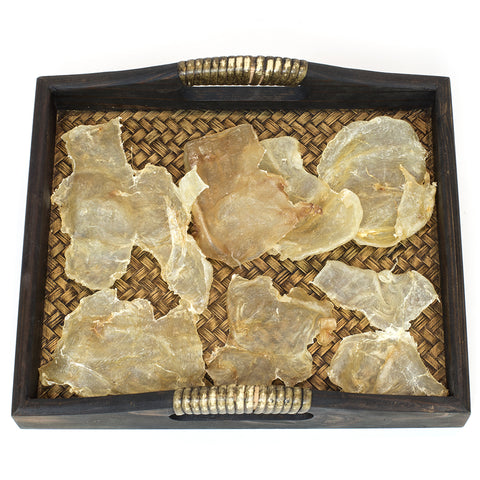 South American Dried Fish Maw(65-70pcs/Lb)
Origin: South America
Product Weight:
Package Type:
In stock
Description:
南美深海 小蝴蝶肚 花膠12oz/bag (65-70頭/磅) 
花胶的主要成分为高级胶原蛋白、多种维生素及钙、锌、铁、硒等多种微量元素。其蛋白质含量高达84.2%,脂肪仅为0.2%,是理想的高蛋白低脂肪食品。
从中医角度,花胶极有滋补食疗作用,《本草纲目》记载:花胶能补肾益精,滋养筋脉,能治疗肾虚滑精及产后(产后食品)风痉。花胶含丰富的蛋白质及胶质,具滋阴养颜,补肾,强壮机能。腰膝酸软,身体虚弱,最适宜经常食用。
South American Dried Fish Maw  (65-70pcs/Lb)
The main components of fish maw are high-grade collagen, various vitamins, and various trace elements such as calcium, zinc, iron, and selenium. Its protein content is as high as 84.2%, and its fat is only 0.2%, making it an ideal high-protein and low-fat food. 
From the perspective of traditional Chinese medicine, fish maw has very nourishing and therapeutic effects. "Compendium of Materia Medica" records: fish maw can nourish the kidney and essence, nourish the muscles and veins, and can treat kidney/adrenal deficiency and postpartum weakness. Fish maw nourishes yin and protects beauty and stamina. It is a highly valued food suitable for regular consumption.
Fish maw, as a good source of collagen, proteins, and nutrients, provides a wide variety of skin benefits, such as helping to improve your skin tone, and tissue health. Furthermore, many Chinese people considered fish maw as a traditional delicacy that represents fortune and health.
Fish maw is primarily used for its texture and flavor absorption in soups; often simmered or braised for a long time, fish maw takes on the spices and other flavors used in the soup and adds texture.