Thinleaf Milkwort Root-bark/ Yuan Zhi 16oz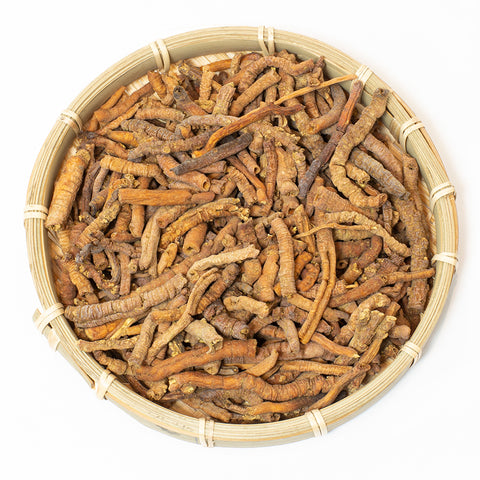 Thinleaf Milkwort Root-bark/ Yuan Zhi 16oz
Origin: China
Product Weight: 16 oz
Package Type: Bag
In stock
Description:
远志 16oz
葽绕、蕀蒬、棘菀、细草、小鸡腿、小鸡眼、小草根
性味
苦、辛、温。
功效
为远志科植物细叶远志的根。 安神益智,祛痰,消肿。用于心肾不交引起的失眠多梦,健忘惊悸,神志恍惚,咳痰不爽,疮疡肿毒,乳房肿痛。
经脉
归心经、肾经、肺经
用法用量

内服:煎汤,3~10g;浸酒或入丸、散。
外用:适量,研末酒调敷。
注意禁忌
心肾有火,阴虚阳亢者忌服。
①《本草经集注》:得茯苓、冬葵子、龙骨良。畏真珠、藜芦、蜚蠊、齐蛤。
②《药性论》:畏蛴螬。
【食疗方】
1.远志莲子粥
远志30g,莲子15g,粳米50g。先将远志泡去心皮,与莲子均研为粉,再煮粳米粥,候熟,入远志和莲子粉,再煮2沸即可。随意食用。
功效:补中,益心志,聪耳明目。主治失眠、健忘、怔忡、心悸等症。
2.远志酒
远志10g,白酒500g。先将远志研末,浸入白酒中,3日可饮用。每日1小盅。
功效:安神益智,消肿止痛。主治惊悸失眠、迷惑善忘、痈疽肿毒等症。
3.远志枣仁粥
远志肉10g,炒枣(酸枣仁)10g,粳米50g。将粳米放入锅内,加水适量,煮粥,开锅后即放入远志、枣仁,煮熟即可。晚间睡前作为夜宵食之。
功效:宁心安神。主治心血不足,痰扰于神而引起的惊悸健忘、不寐多梦等症。
Thinleaf Milkwort Root-bark/  Yuan Zhi 16oz
Polygala tenuifolia, also known as yuan zhi, is an herb. Its root is widely used in Chinese medicine to improve memory and combat forgetfulness  P. tenuifolia because of its expectorant, tonic, tranquilizing, and antipsychotic properties. In particular, the herb is used against insomnia, neurasthenia, amnesia, depression, anxiety-related palpitations, restlessness, disorientation, dementia, and memory failure. . . Polygala tenuifolia Willdenow is a perennial herbaceous plant distributed widely in China and Korea. In Asia, it is well-known traditional medicine for the treatment of phlegm and detumescence [swelling]. Traditional medicines are prepared from the roots of P. tenuifolia because of its expectorant, tonic, tranquilizing, and antipsychotic properties. https://www.hindawi.com/journals/ecam/2014/570134/
Yuan Zhi is said to help coordinate the actions of heart and kidney (adrenal) Qi energy circulation so that our thoughts and actions are connected with our emotions. 
The dry root of the plant, "Polygala Tenuifolia". Being heart and kidney meridians entered, it opens heart qi to calm heart and induce tranquilization and also collects kidney qi to reinforce will and memory. It is the key herb for restoring normal coordination between heart and kidney, inducing tranquilization, improving intelligence, and reinforcing will. It also can aid in curing Epilepsy and mania due to phlegm obstruction of heart, Cough with profuse phlegm, and abscess, deep-rooted carbuncle, and swollen sores. (bioessence.com)
Dosage Oral administration: decocting soup, 3~10g; soaking in wine or pill or powder.
External use: appropriate amount, blended with grind and wine. 

Cautions: 
Use this herb, for a limited time, following professional advice from a natural health herbal expert. 
People with fire in the heart and kidneys and hyperactive yin and yang should not take it. 
Diet Therapy
Polygala lotus seed porridge 
Ingredients:
Polygala 30g, lotus seed 15g, japonica rice 50g. Soak Polygala first, peel off the skin, grind with lotus seeds into powder, then cook japonica rice porridge, wait until cooked, finally add Polygala and lotus seed powder, until boiling. Then ready to eat. 
Efficacy: nourishes the middle, nourishes the mind, improves ears and eyesight. Indications of insomnia, forgetfulness, dullness, heart palpitations, and other symptoms. 
Polygala wine 
Ingredients:
Polygala 10g, white wine 500g. 
First grind the powder of Polygala, immerse it in white wine, and store it for 3 days.
1 small cup a day.
Efficacy: soothe the nerves, nourish the mind, reduce swelling and relieve pain. 
Indications of palpitations, insomnia, confusion and forgetfulness, carbuncle, swelling, and poisoning.